2021 KiteFoil World Series Fuerteventura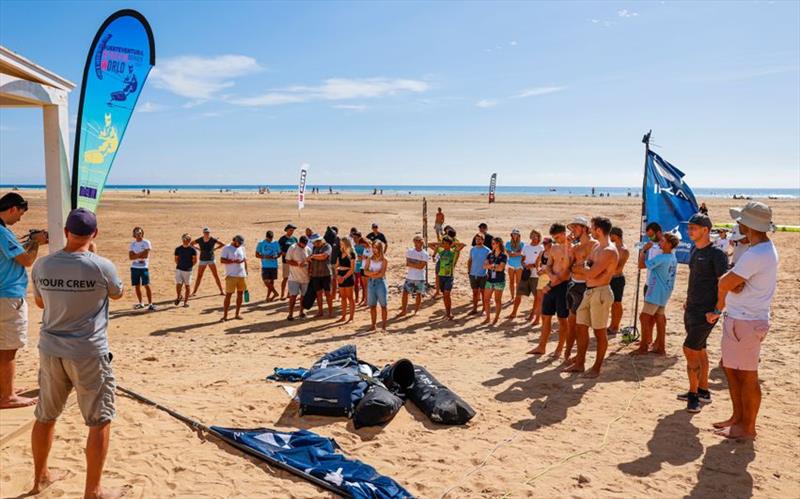 2021 KiteFoil World Series Fuerteventura – Day 1
by International Kiteboarding Association Nov 25 02:04 PST
24.-26. November 2021
The art of making your own fun on a day without a race – 2021 KiteFoil World Series Fuerteventura day 1 © IKA Media / Sailing Energy
Even when there was no racing on day 1 of the 2021 KiteFoil World Series Fuerteventura, the 48 sailors are still having their own fun.
With ages in the fleet from 14 to the early 50s, from avid weekend warriors to Olympic aspirants, there is a big appetite to enjoy beach life, even when the wind refuses to get up above 5 knots.
Some sailors fly their kites on the beach and fine-tune the Dyneema lines for perfect control, others exhaust their competitive juices on hard-fought volleyball or football matches. Or even play for the audience with gravity-defying backflips.
When racing is canned for the day because there is not enough wind, most sailors will clear out the boat park immediately and return to their residence. Instead, Riccardo Pianosi and Ulysse Dereeper ran their 21-foot-long kites up a 50-foot-long dune while jumping up the steep hill and launching themselves down toward the ocean, sometimes flying 8 feet or more above the sand. Dangerous, but a good way to increase adrenaline levels.
30 minutes after the race had been officially canceled and sailors should have boarded the shuttle bus back to the Royal Suite Hotel, the wind picked up just enough to tempt some out on the water for a late afternoon action. The wind was not quite strong enough to hold the less fortunate dragons up, and their huge sails crashed against the water. It was not in the plan and it does the tedious but important work of wiping the kite off before the competition kicks off tomorrow.
With the forecast that stronger trade winds will re-establish in the Canary Islands for the rest of the week, there is a higher degree of confidence that sailing will actually continue. Thomas Beckett, a Copenhagen lawyer in his late forties, is here with his son, Emil, and two of his nephews, Asger and Johan. "We enjoy the kitefoil circuit, even when there is no racing. It's great to come here with members of your own family and to meet friends from all over the world. Fuerteventura is a great place for water sports. The boys have had really good wind when they were here before, and drove fast on the 9-meter kites, so I'm sure it's coming in the next few days. "
As no race has been completed today, the plan is six on Thursday, first start at. 1230 on Risco del Paso beach. All the action at the climatic final two-day regatta on Friday and Saturday will be shown on Facebook Livestream.
.