BOJ will not introduce digital yen as means for negative rates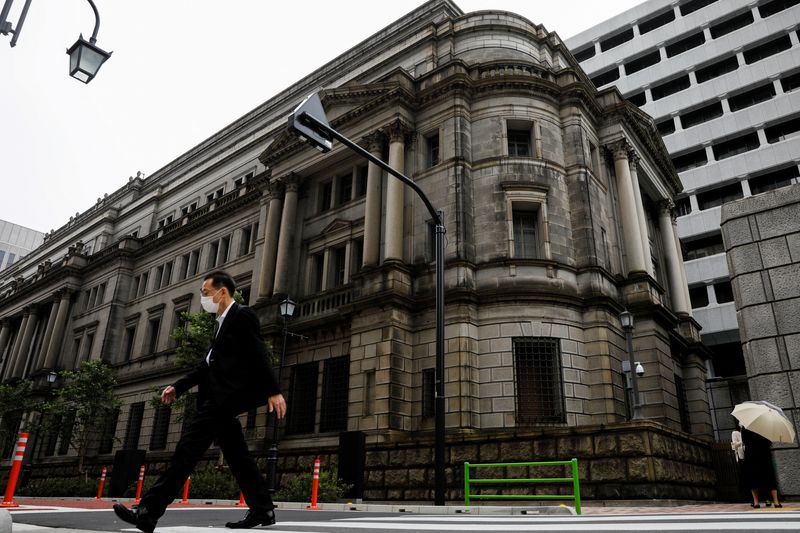 © Reuters. FILE PHOTO: A man wearing a protective mask walks past the headquarters of Bank of Japan amid the coronavirus disease (COVID-19) outbreak in Tokyo, Japan, May 22, 2020.REUTERS / Kim Kyung-Hoon
TOKYO (Reuters) – The Bank of Japan (BOJ) will not introduce a digital yen as a means to achieve negative interest rates, an idea sometimes discussed in academic circles, a senior central bank official said on Wednesday.
In upcoming experiments on issuing a central bank digital currency (CBDC), the BOJ will explore features such as setting a limit on the amount of transactions and holdings for each entity, BOJ Executive Director Shinichi Uchida said in a speech.
The BOJ has not decided whether to issue a digital yen but has moved to a second phase experiment from April to prepare for a possible launch.
© Reuters. FILE PHOTO: A man wearing a protective mask walks past the headquarters of Bank of Japan amid the coronavirus disease (COVID-19) outbreak in Tokyo, Japan, May 22, 2020.REUTERS / Kim Kyung-Hoon TOKYO (Reuters) – The Bank of Japan (BOJ) will not introduce a digital yen as a means to achieve negative interest rates,…