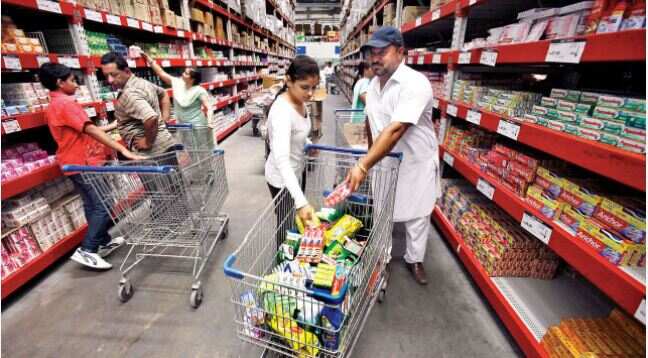 Sector Spotlight: Underperformer FMCG now poised for a turnaround; analyst picks ITC, Dabur Tata Consumer for top gains
Even as domestic equity markets continued their losing streak and ended this week in red, FMCG (Fast Moving Consumer Goods) stocks traded with strength on Wednesday. Nifty FMCG index settled at 38,191.40, gaining 0.7 per cent from the previous closing. In contrast, the BSE Sensex lost 237 points or 0.4 per cent to close at 58,338.93. Meanwhile, the Nifty50 ended at 17,475.65, down by 0.3 per cent or 54 points.
In the 15-share index, 7 stocks gained while 8 lost in Wednesday. The biggest gainers were Varun Beverages Limited, ITC Limited and Hindustan Unilever Today. The stocks gained 3 per cent, 1.6 per cent and 0.9 per cent respectively. The biggest losers were Godrej Consumer Products Limited, Emami Limited and United Breweries Limited. The stocks were down over 2 per cent, 1.9 per cent and 1.3 per cent respectively.
See Zee Business Live TV Streaming Below:
Technical Analyst Nilesh Jain said that FMCG sector has been an underperformer against many sectoral peers. However, the risk-to-reward ratio seems favorable now, he said. Jain, who is Assistant Vice President (AVP), Equity Research Technical and Derivatives at Centrum Broking said that the technical charts show a positive pattern for Nifty FMCG sector.
The index has witnessed a breakout from rounding bottom pattern which indicates a likely upside, going forward. The index has support at 37,500 and it is expected to test levels between 39,000 and 39,500 on the positional term basis, the AVP said. The move will be gradual, he added.
Jain recommends three stocks for top returns.
ITC: Buy | LTP: Rs 269 | Target: Rs 310 | Stop Loss: Rs 250 | Upside 15%
Jain said that it was one of the leading stocks in the FMCG space. It has recently hit a 52-week high of RS 273.15 and has moved from levels around Rs 200 to Rs 270 in almost a month. This is a significant move considering the stock is a slow mover.
Dabur: Buy | LTP: Rs 553 | Target: Rs 580/600 | Stop Loss: Rs 535 | Upside 8%
The stock looks good at current levels, Jain said. He said that Dabur shares are slow movers and must be bought with a positional term view. Buying at current levels is recommended.
Also Read: Sector Spotlight: Know why realty sector is in focus for this analyst; DLF, Oberoi Realty are top bets for gains
Tata Consumer: Buy | LTP: Rs 816 | Target: Rs 850/900 | Stop Loss: Rs 760 | Upside 10%
Tata Consumer Products Limited is another stock on which Jain remains bullish. He recommends a buy on this stock with a view of 1-2 months but on declines. The stock has seen considerable rally and is now in an overbought situation, Jain opined.
(Disclaimer: The views / suggestions / advises expressed here in this article is solely by investment experts. Zee Business suggests its readers to consult with their investment advisers before making any financial decision.)
.
Even as domestic equity markets continued their losing streak and ended this week in red, FMCG (Fast Moving Consumer Goods) stocks traded with strength on Wednesday. Nifty FMCG index settled at 38,191.40, gaining 0.7 per cent from the previous closing. In contrast, the BSE Sensex lost 237 points or 0.4 per cent to close at…