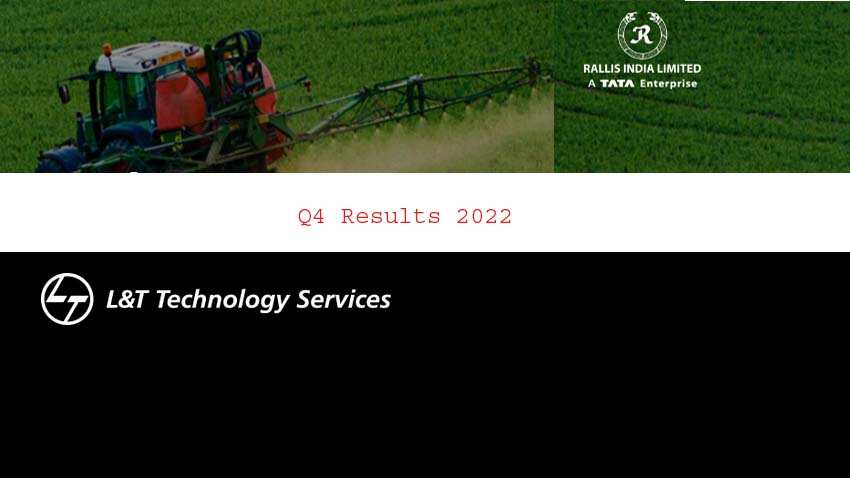 Q4 Results 2022: LTTS, Rallis India announce March quarter results; from net profit to revenues, key highlights here
Many listed companies announced their March quarter results. Among them, L&T Technology Services and Rallis declared their Q4 Results 2022. Here are the key highlights.
LTTS Q4 net profit grows 35 pc to Rs 262 cr
L&T Technology Services on Thursday reported an increase of 34.7 per cent in consolidated net profit to Rs 262 crore for the quarter ended March 2022.
The company had posted a net profit of Rs 194.5 crore in the same period a year ago.
"We achieved several milestones in FY22? A dollar revenue growth of 20 per cent in constant currency, record high operating margins, and more than three-fold increase in patents filed by our engineers.
"Our growth was broad based with all five segments growing in double digits and showing an improvement in operating margins," 'L&T Technology Services (LTTS) CEO and Managing Director Amit Chadha said in a statement.
The consolidated revenue from operations grew by about 22 per cent to Rs 1,756.1 crore from Rs 1,440.5 crore in the March 2021 quarter.
"… In the fourth quarter, we won a USD 100 million plus deal in the EACV (electric autonomous connected vehicles) space – being chosen as the strategic engineering partner for a new age electric VTOL (Vertical Takeoff and Landing) aircraft program.
"With this deal, we have been able to extend our EACV success at auto and trucks and off highway segments, to Aerospace, reflecting our multi-domain engineering expertise," Chadha added.
For the year ended March 31, 2022, LTTS 'consolidated profit grew by 44.27 per cent to Rs 957 crore, from Rs 663.3 crore in 2020-21.
The annual revenue from operations increased by 20.55 per cent to Rs 6,569.7 crore in 2021-22, from Rs 5,449.7 crore in the preceding fiscal.
See Zee Business Live TV Streaming Below:
Rallis India posts Rs 14 crore loss in Q4
Rallis India, a subsidiary of Tata Chemicals, on Thursday reported a consolidated loss of Rs 14 crore for the March quarter due to multiple challenges, including in seeds business.
The company has posted a consolidated profit after tax of Rs 8 crore during the corresponding quarter of the previous financial year, Rallis India said in a BSE filing.
Consolidated revenue during the quarter under review grew 7.85 per cent to Rs 508 crore. In the year-ago period, the same stood at Rs 471 crore.
"The company delivered a resilient performance in the wake of multiple headwinds during the year. Our domestic crop care business grew at 14 per cent and exports by 6.2 per cent during the year. Our seeds business faced challenges and revenue declined by 13 per cent, Rallis India Managing Director and CEO Sanjiv Lal said.
According to him, supply chain challenges continued into the fourth quarter with availability issues for certain intermediates as well as steep cost inflation.
"We are focused on minimizing the disruptions to our production as much as possible. Calibrated price corrections have helped in partially neutralizing the material cost inflation," he said.
On the positive side, he said predictions of normal monsoons and robust commodity prices, both locally and globally, are expected to have a favorable impact on Indian agriculture.
"Moving forward, we are focused on growth despite the volatile context. On a longer-term basis, our capex plans, new product introduction plans, and demand generation investments remain on course as we believe that normalcy will be restored progressively," he added .
Meanwhile, Rallis India recorded a 28.38 per cent decline in consolidated profit after tax (after exceptional items) at Rs 164 crore in 2021-22. It was at Rs 229 crore in the previous financial year.
The consolidated revenue of the company in the last fiscal grew 7.2 per cent to Rs 2,604 crore. In the year-ago period, it was at Rs 2,429 crore. PTI SM
.
Many listed companies announced their March quarter results. Among them, L&T Technology Services and Rallis declared their Q4 Results 2022. Here are the key highlights. LTTS Q4 net profit grows 35 pc to Rs 262 cr L&T Technology Services on Thursday reported an increase of 34.7 per cent in consolidated net profit to Rs 262…