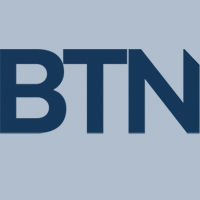 GBTA, ARC Data Show Corporate Travel Rebound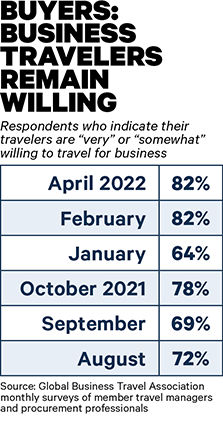 Business travel has made "significant gains" in rebounding to pre-pandemic levels over the past few months, with a solid majority of companies now allowing both non-essential domestic and international travel, according to a Global Business Travel Association poll of 520 travel buyers and suppliers conducted earlier this month.
Eighty-six percent of companies represented in the poll said they allow at least some non-essential domestic travel, compared with 73 percent in GBTA's previous poll in February. International travel permissions have had a bigger rebound, with 74 percent saying their company allows it, an increase of 26 percent points from the February.
Even with fewer restrictions, 45 percent of respondents said they have canceled or suspended most international business trips, though that marks a 27-percent-point drop from February. About half of those who have canceled or suspended most international travel said they expect it to resume within the next three months. The vast majority also said their employees are currently willing to travel for business.
"Booking levels and travel spending continue to return, and there's high levels of optimism and employee willingness to travel for business," GBTA CEO Suzanne Neufang said in a statement. "This comes even as the industry faces challenges beyond Covid-19 including rising fuel prices, inflation, supply chain disruption and war in Ukraine."
Buyers in the survey on average said travel bookings have recovered to 56 percent of pre-Covid-19 levels, an increase of 22 percentage points from the February survey. On average, they said travel spending should reach 59 percent of 2019 levels by the end of this year and 79 percent by the end of 2023.
ARC, meanwhile, reported "strong growth in corporate travel" for March, with total accredited travel agency ticket sales of $ 7.8 billion for the month — a 180 percent increase year over year, a 45 percent increase compared to February and the first time since February 2020 that the total crossed the $ 7 billion mark. Total passenger trips were up 25 percent month over month, with both US and international trips both up by about the same amount.
Corporate travel sales were about 60 percent of pre-pandemic levels at the beginning of March and grew to 70 percent by the end of the month, according to ARC VP of global customers and travel products Steve Solomon.
ARC data also showed significant increase in airfares, with the average US round-trip ticket price $ 540 in March, a 41 percent year-over-year increase and the highest average monthly ticket price in almost seven years. "Despite rising airfares, the number of passenger trips continued to accelerate as international travel bookings neared pre-pandemic levels," according to Solomon.
The GBTA survey showed buyers are adjusting their budgets for inflation, with 41 percent saying they increased employee travel spending for air travel, 34 percent for hotel costs and 33 percent for car rental.
A plurality of respondents in the GBTA survey also support mask requirements on aircraft, with 41 percent saying governments should require them. About a third said it should be up to the airline if they are required, while 20 percent said mask mandates should be prohibited by the government.
Business travel has made "significant gains" in rebounding to pre-pandemic levels over the past few months, with a solid majority of companies now allowing both non-essential domestic and international travel, according to a Global Business Travel Association poll of 520 travel buyers and suppliers conducted earlier this month. Eighty-six percent of companies represented in the…