Peso declines vs dollar on expectations of bigger rate hike at Fed's May meeting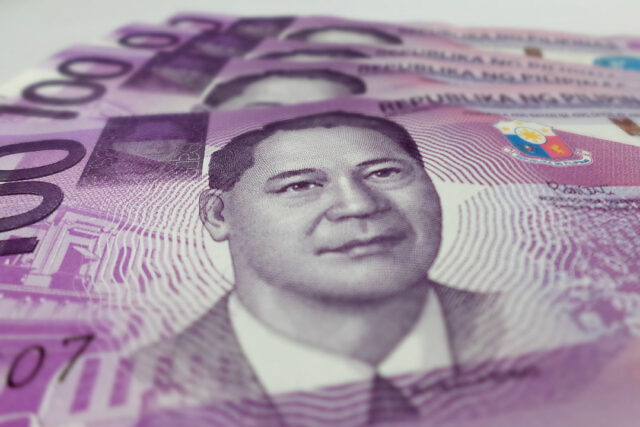 THE PESO weakened versus the greenback on Monday as investors priced in a more aggressive rate increase from the US Federal Reserve.
The local unit closed at P52.41 per dollar on Monday, shedding 9.5 centavos from its P52.315 finish on Friday.
The peso opened Monday's session at P52.38 versus the dollar. Its weakest showing was at P52.48, while its intraday best was at P52.38 against the greenback.
Dollars exchanged dropped to $ 726 million on Monday from $ 1.283 billion on Friday.
The peso depreciated on expectations of a bigger Fed policy rate hike, a trader said in a Viber message.
A half-point interest rate increase "will be on the table" when the Fed meets on May 3-4 to approve the next in what is expected to be a series of rate increases this year, Fed Chair Jerome H. Powell said on Thursday in comments that pointed to an aggressive set of actions ahead, Reuters reported.
With inflation running roughly three times the Fed's 2% target, "it is appropriate to be moving a little more quickly," Mr. Powell said in a discussion of the global economy at the meetings of the International Monetary Fund.
A Reuters poll two weeks ago showed analysts expect the Fed to make two back-to-back 50-basis-point (bp) interest rate hikes in May and June to bring down runaway inflation.
The Fed's policy-setting Federal Open Market Committee began to unwind its pandemic-driven easy stance in March when it hiked key rates at 25 bps to tame inflation.
Meanwhile, Rizal Commercial Banking Corp. Chief Economist Michael L. Ricafort said the peso depreciated against the dollar along with other Asian currencies.
The US dollar climbed to a two-year high versus its rivals on Monday and was on track for its single biggest daily gain in more than six weeks as a wave of risk aversion swept through global markets, boosting the greenback's safe-haven appeal.
With war in Ukraine entering a third month and the lockdown of 25 million people in Shanghai about to enter a second month, investor sentiment was fragile amid worries that climbs in consumer prices will lead to rapid global interest rate rises.
Against a basket of its rivals, the dollar gained 0.6% in early London trading to 101.62, a level it last tested in March 2020 and on track for its biggest daily rise since March 11.
China's yuan also fell to a one-year low against the dollar, extending losses after posting its worst week since 2015, while a worsening economic growth outlook drove investor concerns that the currency could weaken further.
For Tuesday, Mr. Ricafort gave a forecast range of P52.40 to P52.45 per dollar, while the trader expects the local unit to move within 52.30 to P52.50. – LWT Noble with Reuters
THE PESO weakened versus the greenback on Monday as investors priced in a more aggressive rate increase from the US Federal Reserve. The local unit closed at P52.41 per dollar on Monday, shedding 9.5 centavos from its P52.315 finish on Friday. The peso opened Monday's session at P52.38 versus the dollar. Its weakest showing was…