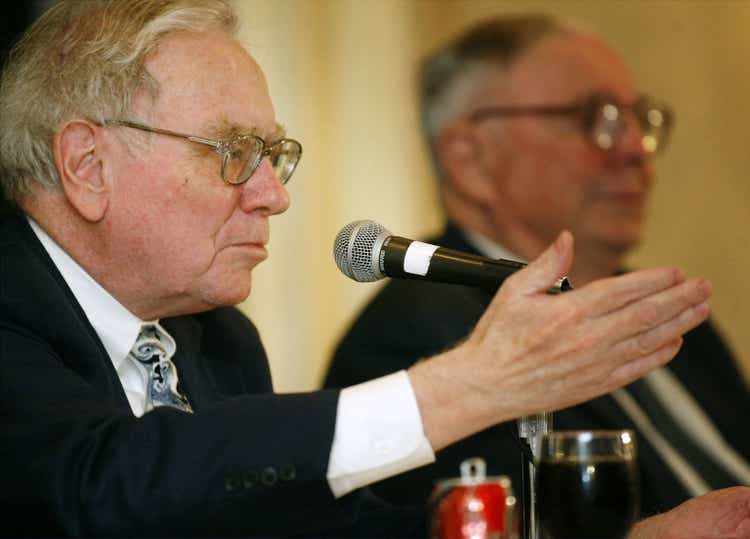 Berkshire Hathaway invested over $ 40B in three weeks in Q1: annual meeting (NYSE: BRK.B)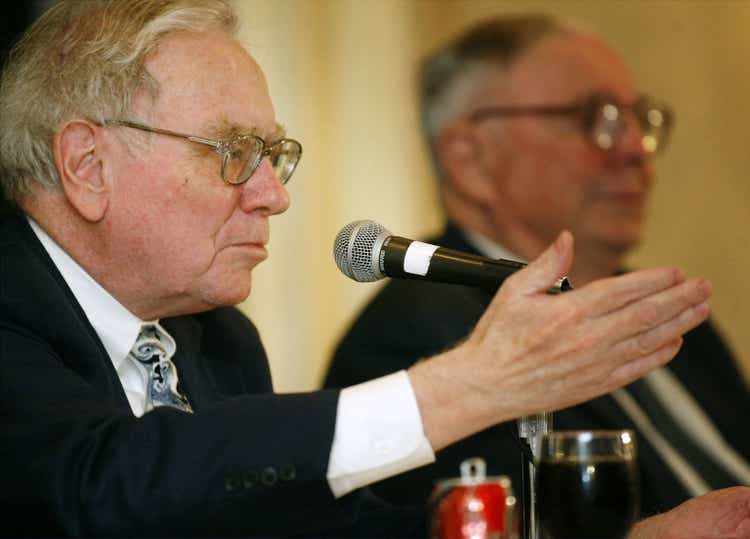 "One thing that will not change is we will always have a lot of cash on hand," said Berkshire Hathaway (NYSE: BRK.B) (NYSE: BRK.A) Chairman and CEO Warren Buffett in his opening comments at the company's annual meeting in Omaha on Saturday.
While, the conglomerate looked to start off the year slow in terms of investment activity, in three weeks starting Feb. 21, it spent more than $ 40B, he said.
The company had $ 143.9B of cash and US Treasury bills at Dec. 31, 2021, and that went down to $ 102.7B by March 31, 2022.
3:21 PM ET: Buffett explains that the government's massive fiscal support during the pandemic has contributed to inflation. "At some point the money can not be worth as much as when there was less money out" in circulation, he said. "The amount the government sent out, it has to affect prices." Still, he said it was the right thing to do.
The fiscal support "happened on a scale we've never seen before," Munger said.
3:06 PM ET: Vice Chairman Charlie Munger explained part of the company's success: "The relative absence of bureaucracy at Berkshire Hathaway (BRK.B) has made a lot of money."
Buffett explained that he's able to make decisions quickly without committees analyzing prospective deals. "When opportunity comes, you just have to move. I operate in an environment where I can do it. You do have to be mentally prepared to do something when it makes sense, do it big and do it quickly," he said.
2:37 PM ET: The company now owns ~ 9.5% of Activision Blizzard (ATVI) as of April 29, after Buffett decided to increase the company's previously disclosed a 14.7M stake, he said. "If the deal goes through we make some money," Microsoft (MSF) announced in January that it would acquire Activision for $ 95 per share.
2:26 PM ET: Buffett says he's not looking for new shareholders. "We like the group we have .." Every company I know virtually is wooing new people to come it. It basically strikes me as crazy. "
Buffett says he has stepped back from making statements about political issues because he does not want people working for Berkshire Hathaway (BRK.B) to have to deal with consequences of people who may not agree with his stance.
12:56 PM ET: Annual meeting breaks for lunch for an hour.
12:38 PM ET: Buffett is convinced that the company's focus on the long-term will endure after he and current management are gone. "Berkshire is built forever. There is no finish point."
12:30 PM: Charlie Munger recommends that investors "just say no" if your retirement account or financial advisor recommends putting savings in bitcoin (BTC-USD).
12:29 PM: Discussing the risk of cyber risk, Greg Abel, who heads Berkshire's non-insurance operations, said the company has been working across its businesses to harden its assets. "The good news is that to date we have not had a significant event," Abel said. "We've had minor events. It's a significant risk, but it's a significant priority" across its businesses, Abel said.
There was also a discussion on the probability and risk about a nuclear attack. Everyday there's a small risk of such an event and "there's no solution for it," Buffett said.
Ajit Jain, the head of Berkshire's insurance operations, said he worries about it the "lack of the ability to estimate what our exposure really is.
11:49 PM ET: Jain sees its passenger car insurance businesses catching up with Progressive (PGR) in terms of using telematics. "There's no doubt that Progressive has done a better job recently," he said. Geico hadn't gotten into telematics until "relatively recently," he added. "Initial results are promising. My hope is that in the next year or two, we will catch up," Jain said.
11:32 PM ET: Buffett talks about the beauty of share repurchases. For example, the last time Berkshire Hathaway (BRK.B) bought American Express (AXP) shares was in 1998, giving it an 11.2% stake in the credit card company. But through AXP's stock buybacks, Berkshire now holds a 20% stake without spending any more money.
11:23 PM ET: Asked if he would consider buying more businesses outside of the US, especially in Europe, Buffett said he generally does not get a lot of calls from other parts of the world. "We would love to buy, but they do not think of us as quickly there," he said.
11:18 AM ET: Wall Street encourages gambling in the stock market rather than investment, Buffett noted. "They do not make money unless people do things. And they make a lot more money when people are gambling than when people are investing."
Update at 11:13 AM ET: Buffett has often referred to the stock market as a combination of a casino and a trading marketplace. Lately, the amount of gambling in the market has increased and that allowed Berkshire (BRK.B) to amass a 14% stake in Occidental (OXY) within two weeks, he said. In terms of why he decided to spend so much on the oil producer: "In the case of Occidental specifically, they had an analyst presentation and I read the annual report over the weekend, and I found it made good sense."
On the $ 11B acquisition of Alleghany (Y), the CEO, who had worked at Berkshire in the past, sent Buffett the company's annual report. Buffett read it and said he would be in New York on March 7 and asked if they could meet up. "I knew we'd buy Alleghany at the price we offered, and if they did not want to accept it, that would be fine," he said.
Earlier in the meeting: He spoke about how careful he and Vice Chairman Charlie Munger is with shareholders' money, "The idea of ​​losing permanently other peoples money – people who trust us – that's just a future I do not want to have."
Among the company's activity in Q1: Boosting its stakes in Occidental (OXY) and Chevron (CVX), acquiring an 11.4% stake in HP Inc. (HPQ) for $ 4.2B, and a deal to buy specialty insurance company for $ 11.6B.
Also sitting on the dais are Greg Abel, Buffett's successor and currently head of Berkshire's non-insurance businesses, and Ajit Jain, the head of the company's insurance operations.
With reporting by Max Gottlich
Earlier, Berkshire Hathaway Q1 operating earnings helped by manufacturing, retail
Eric Francis / Getty Images News "One thing that will not change is we will always have a lot of cash on hand," said Berkshire Hathaway (NYSE: BRK.B) (NYSE: BRK.A) Chairman and CEO Warren Buffett in his opening comments at the company's annual meeting in Omaha on Saturday. While, the conglomerate looked to start off…