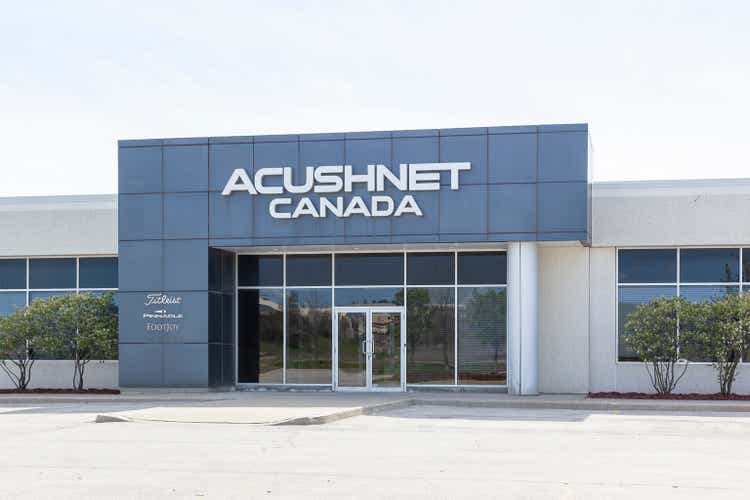 Acushnet swings to earnings beat, affirms guidance (NYSE: GOLF)
Acushnet Holdings (NYSE: GOLF) drove to strong earnings in the first quarter and offered an encouraging earnings approach for the full year.
The Fairhaven, Massachusetts-based leisure product company reported EPS of $ 1.10, which was $ 0.30 above estimates. Meanwhile, revenue of $ 606.1 million beat expectations at $ 34.9 million. CEO David Maher added that growth in the FootJoy and Titleist brands led the strong figures for the quarter.
Moving forward, the company also affirmed its full year outlook to be in line with the analyst consensus as net sales are set to in the range of 3.8% to 6.1%. Maher indicated that the expectation of healthier supply chain dynamics should help lift results for the remainder of the year.
"We believe the golf industry is structurally healthy and are pleased with the initial response to our 2022 product offerings," he said. "Looking forward, we are enthused by the game's momentum as the golf season opens up in northern markets and anticipate that our supply side environment will improve over the course of the year."
Shares edged higher shortly after the market opened on Thursday, before giving up some gains early in the trading session.
Read more about Morgan Stanley's cautious view on the company.
Acushnet Holdings (NYSE: GOLF) drove to strong earnings in the first quarter and offered an encouraging earnings approach for the full year. The Fairhaven, Massachusetts-based leisure product company reported EPS of $ 1.10, which was $ 0.30 above estimates. Meanwhile, revenue of $ 606.1 million beat expectations at $ 34.9 million. CEO David Maher added…