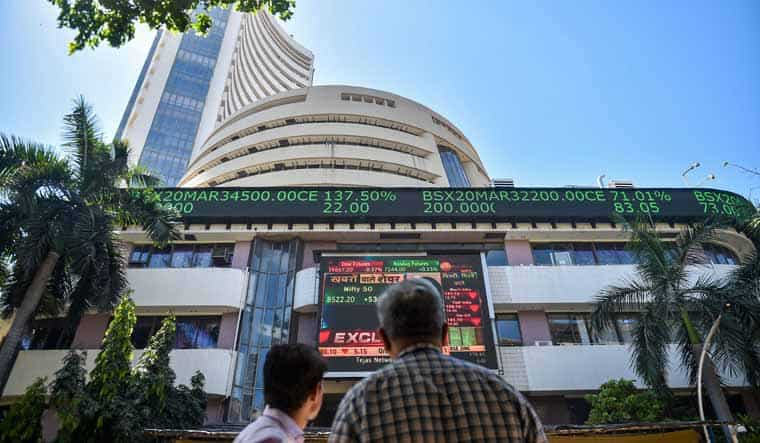 Foreign investors holding in Nifty-500 slips on both YoY and sequentially basis; domestic investors turn buyers: Motilal Oswal
Amid the weak global cues, the Foreign Institutional Investors (FIIs) holding in Nifty-500 has come down by 40 basis points (bps) on quarter-on-quarter (QoQ) and 210 bps year-on-year (YoY) to 20.3 per cent in the March quarter of the financial year 2021-22 (Q4FY22), a Motilal Oswal report said.
On the contrary, the Domestic Institutional Investors (DIIs) holding in Nifty-500, however, went up 70 bps QoQ and 30 bps YoY to 14.5 during the same period, the report also noted.
The report further noted that the FIIs reduced their ownership by 60/72 per cent in Nifty-500 / Nifty-50 companies QoQ, respectively, while DIIs raised their stake by 58/72 per cent in the former and latter companies, respectively.
"A mixed trend was observed in promoter holdings. The holdings remained unchanged QoQ, but rose 60 bps YoY to 50 per cent. Promoter stakes in Restaurant Brands Asia, Max Healthcare, Coforge, Equitas Small Finance Bank, Poonawalla Fincorp, and JK Cements declined QoQ due to stake sale and capital raising exercises, "the domestic brokerage report further said.
Conversely, Sterling & Wilson Renewable Energy, CG Power & Industrial Solutions, Dhani Services, Vodafone Idea, and L&T Finance Holdings witnessed a QoQ rise in promoter stakes, it added.
As a proportion of the free float of the Nifty-500, FII ownership decreased 90 bps QoQ to 40.5 per cent, while DII increased 130 bps QoQ to 29 per cent. Notably, FII ownership declined 370 bp YoY, whereas DII ownership increased 90 bp YoY, Motilal Oswal also noted.
The FII-DII ownership ratio in the Nifty-500 declined to 1.4x in 4QFY22 from 1.6x in 4QFY21, the report also mentioned.
Over the last one year, the FII-DII ratio has increased in Utilities, Metals, Consumer Durables, and Capital Goods, but has decreased in Insurance, Real Estate, NBFCs, Private Banks, Retail, automatobiles, Healthcare, Cement, Telecom, and Oil & Gas.
.
Amid the weak global cues, the Foreign Institutional Investors (FIIs) holding in Nifty-500 has come down by 40 basis points (bps) on quarter-on-quarter (QoQ) and 210 bps year-on-year (YoY) to 20.3 per cent in the March quarter of the financial year 2021-22 (Q4FY22), a Motilal Oswal report said. On the contrary, the Domestic Institutional Investors…