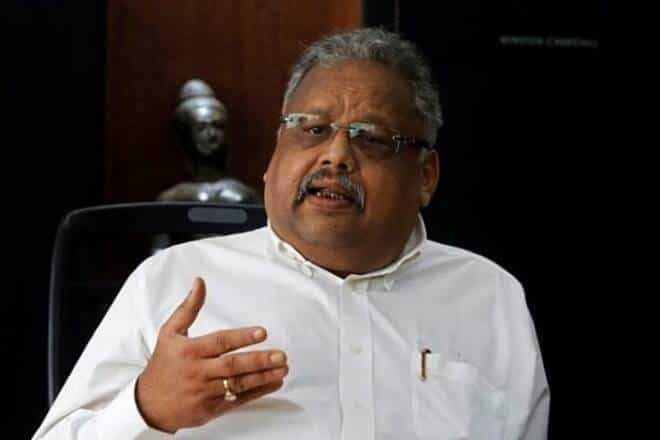 Rakesh Jhunjhunwala Stocks: Brokerages see up to 29% surge in Tata Motors shares amid healthy India business performance in Q4
Billionaire investor Rakesh Jhunjhunwala's one of his favorite stocks – Tata Motors has a potential to grow up to 29 per cent, several brokerages estimate amid in-line / healthy March quarter results for the financial year 2021-22 (Q4FY22).
Rakesh Jhunjhunwala, who is also called the Big Bull of the Indian stock market, holds 39,250,000 equity shares, which translates to about 1.2 per cent stake in Tata Motors, according to the latest shareholding pattern of the company available on the BSE.
"Tata Motors' Q4 earnings were an operational beat and JLR results were in line, with several internals surprisingly positive such as a reduction in net auto debt. Some variables may moderate in the near-term as 1QFY23 to see a dual impact of ongoing chip shortages, YES Securities said.
The stock continues to remain YES Securities' top pick, given its improving India franchise, and early leadership in EVs in India, besides, its standalone business is in a sweet spot led by healthy cyclical recovery both in PV and CV whereas favorable product cycle to help drive JLR outperformance.
The recent valuations contraction makes Tata Motors an even more attractive play among OEMs, YES Securities mentioned. It maintained a Buy rating with a target price of Rs 520 per share, which translates into an upside of around 29 per cent from Friday's closing.
The auto major should witness a gradual recovery as supply-side issues ease and stabilize commodity headwinds (for the India business), Motilal Oswal said in its Q4 earnings review.
The company will benefit from a macro recovery, company-specific volume and margin drivers, and a sharp improvement in free cash flow and leverage in both JLR and the India business, it said
Motilal Oswal maintained Buy rating, with a target price of Rs 485 per share (20 per cent upside), and stock trades at 13.4x FY24E consolidate P / E and 3.2x EV / EBITDA ratio.
According to Edelweiss Research, the India business of Tata Motors compensated for the miss at JLR. It added, that elevated commodities (and lower hedging ratio) also remain a cause for concern.
The brokerage factored in the mid-cycle stage of CVs and macro headwinds, assigning 15x EV / EBITDA and retained a Buy stance with a target price of Rs 485 per share, which implies a 20 per cent upside in the share price.
.
Billionaire investor Rakesh Jhunjhunwala's one of his favorite stocks – Tata Motors has a potential to grow up to 29 per cent, several brokerages estimate amid in-line / healthy March quarter results for the financial year 2021-22 (Q4FY22). Rakesh Jhunjhunwala, who is also called the Big Bull of the Indian stock market, holds 39,250,000 equity…