3800 participants from 110 countries in the World Chambers of Commerce Conference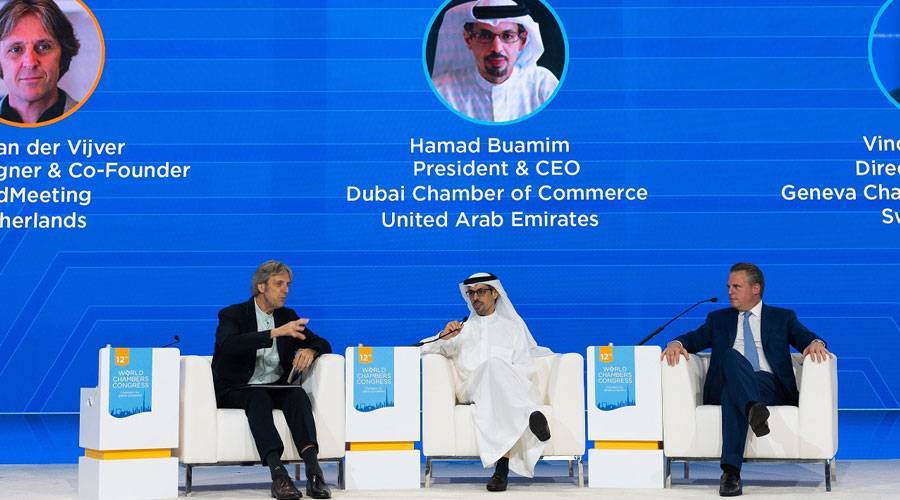 Dubai: "The Bay"
Work on the twelfth session of the International Chambers of Commerce Conference in Dubai ended, with the conference achieving significant success in the number of participants, with the presence of 3800 representatives of chambers of commerce from 110 countries, including 800 actual participants and 3000 virtual participants and more than 80 speakers in 44 discussion sessions where Announcement Geneva presents the honor of hosting the conference's 13th session 2023. The 12th edition of the conference focused on exploring opportunities for chambers of commerce around the world and encouraging them to reorganize their services to lead companies in a new era driven by digitization, governance and sustainability.
The conference ended with a session in which Hamad Mubarak Buamim, Director General of the Dubai Chamber and President of the World Federation of Commerce Chambers of Commerce, expressed his pride in the great success that Dubai achieved in hosting the activities of the 12th World Chambers Conference , especially since it is the first conference organized after the Covid 19 pandemic. , emphasizing the importance of the event to bring together chambers of commerce from around the world, to review the many visions that impacted the event and improved future opportunities.
Buamim said: "The organization of the conference was in line with Dubai's guidelines and in line with its desire to be a catalyst for innovation and the exchange of views and experiences. The conference activities testified to fruitful and promising discussions and visions and qualitative ideas that will surely the consolidation of an innovation culture. "
During the session, which focused on the need for chambers of commerce to change their service patterns to adapt to members 'needs in the light of developments taking place in the world, Buamim indicated that the event examined the most prominent methods and tools to develop the work environment and strengthen chambers' competitiveness. .
Regarding the most prominent issues that the Director-General of the Dubai Chamber wants to transfer to the 13th edition of the conference held by Geneva in 2023, Buamim emphasized the importance of flexibility, using the benefits of the conference's 12th session . in Dubai, apply successful methods and promote the adoption and application of the latest technology and data management, in the hope that the conference results and recommendations will inspire the participating rooms, motivate the development of executable plans and adopt the innovation of model rooms within their institutions.
Fablin Fischer, Minister for Economic Affairs and Labor in Geneva, Switzerland, said in turn: We look forward to holding the thirteenth session of the World Chamber of Commerce Conference in the light of a "normal" global situation, as we have been accustomed to . I believe that discussions on reshaping free trade and global trade in all sectors and institutions will be strongly influenced by developments in global efforts to tackle climate change.
.