Bitcoin price, ethereum, BNB: Crypto crashes as ominous signs emerge, RBA alert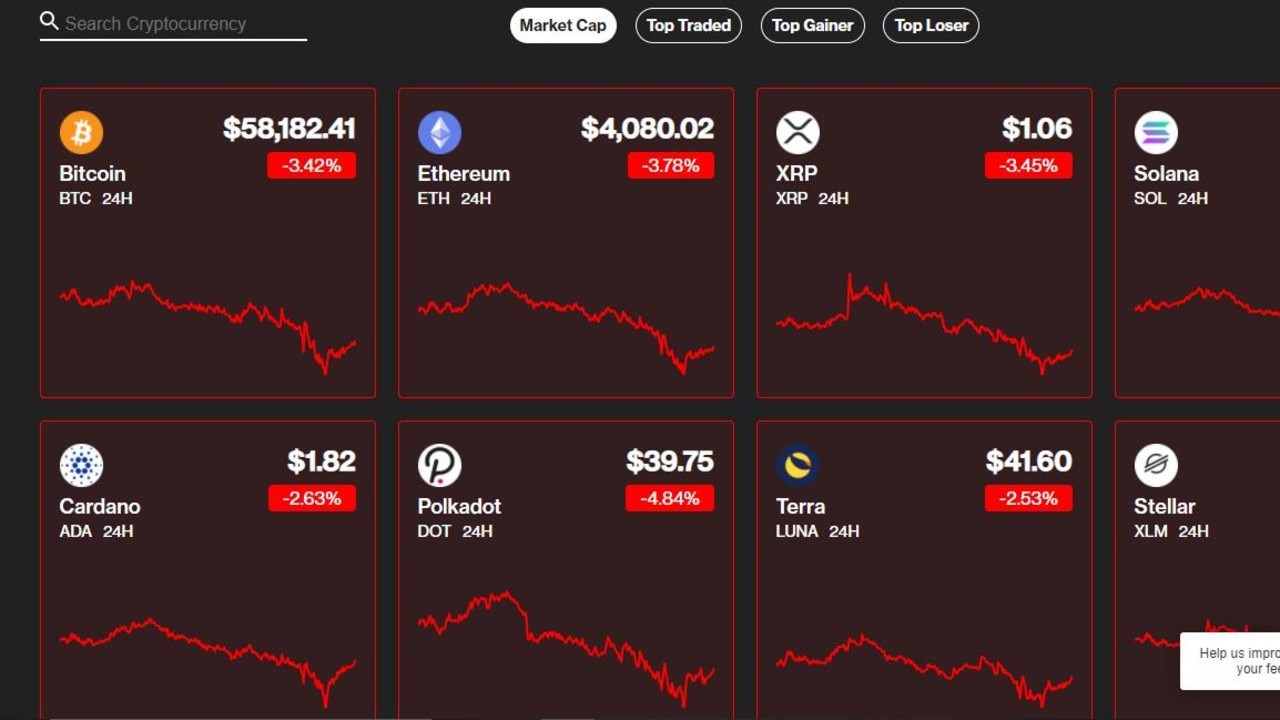 It's been another night of fear for crypto investors in a punishing week for digital tokens. Now Bitcoin is heading towards a terrible threshold.
It's another tough morning for Australian crypto investors waking up to see their wallets shrinking at an alarming rate.
After an already rough week, Bitcoin prices fell overnight to their lowest level in more than a month – suffering from this drop at a time when technical indicators suggest the digital currency could be headed for even more losses.
According to data from CoinDesk, the largest coin by market cap has dropped as low as $56,668.50 today, meaning it has lost almost 18 percent of its value after hitting an all-time high of around $69,000 earlier this month.
It has rallied a bit at the time of writing, but is still down 4.2 percent in the last 24 hours to around $57,800.
Other leading coins also suffered significant losses overnight amid broad sell-offs in the cryptocurrency markets.
All digital assets on CoinDesk's top 20 list are trading in red. Ether, the native cryptocurrency of the Ethereum blockchain and the second-largest cryptocurrency overall, has dropped 4.2 percent in the past 24 hours and dropped below the key psychological level of $4000 in the early hours of the night – XRP is down 3.47 percent as Solana plummeted 6.27 percent. .
It comes when the Reserve Bank of Australia warns crypto investors of the risk of holding speculative assets with "niche" uses that could lose much of their value.
RBA's head of payments, Tony Richards, said that the value of many cryptocurrencies, rising to US$2.6 trillion, could collapse when central banks decide to maintain control over their monetary systems.
"I think there are plausible scenarios where a number of factors could combine to significantly challenge current enthusiasm for cryptocurrencies so that current speculative demand could start to reverse and many of the price spikes of recent years could be resolved," he said. He told the Australian Corporate Treasury Association, AFR.
The crypto market is highly volatile, but some analysts believe this recent drop is causing major problems for digital currencies.
John Iadeluca, founder and CEO of the multi-strategy fund Banz CapitalHe said that if the digital currency falls below certain support levels, it could lead to significant losses.
"$55,000 and $50,000 are very sensitive support levels right now," he said.
"I believe that if the price of Bitcoin crosses $50,000, it will show negative cyclical qualities for Bitcoin price", meaning that it could serve as an early signal that the digital currency is heading towards a declining market.
However, Damanic Dantes CoinDesk says the pullback could stabilize in the short term after falling further.
"If further declines occur, the next level of price support is seen around $53,000 which might offset the pullback based on CoinDesk analysis," he wrote.
"For Bitcoin, the upward momentum on the daily price chart continues to slow, indicating continued profits among buyers. And the relative strength index (RSI) on the daily chart has not yet been oversold, giving BTC room for more bearish in the short term.
"The 100-day moving average, currently around $53,000, could attract buyers similar to late September, which precedes the price recovery."
It is not yet clear what caused the dramatic drop, but there are a few factors that make investors think twice.
Among them fresh Blow to bitcoin mining in ChinaRejection of a spot bitcoin exchange-traded fund (ETF) by the U.S. Securities and Exchange Commission (SEC) and selling to long-term investors to get their cash.
But crypto is notoriously volatile, and analysts say it's too soon to tell whether the recent dip is the start of a sharply rising market reversal or just a correction on its way to all-time highs.
.