Caribbean vs. England: Antigua legends worried ahead of 2022 tour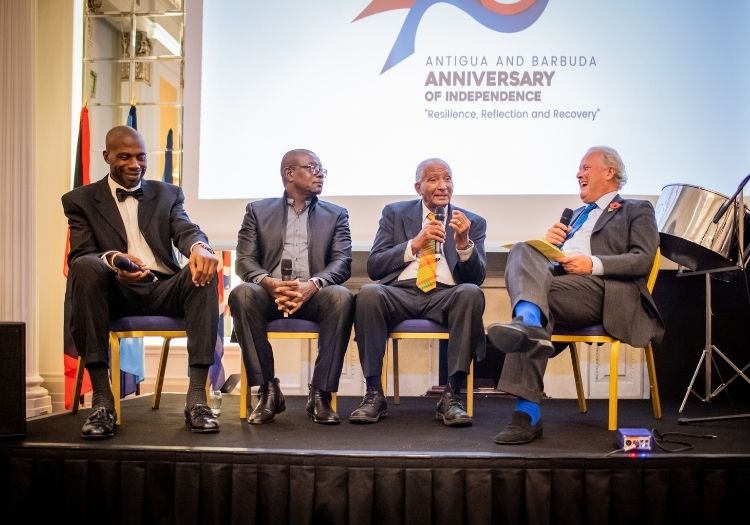 HUW TURBERVILL: Curtly Ambrose, Andy Roberts and Richie Richardson, who celebrate 40 years of Antigua's independence from the UK, are hopeful fans will flock to their birthplace for the T20s and three Tests in 2022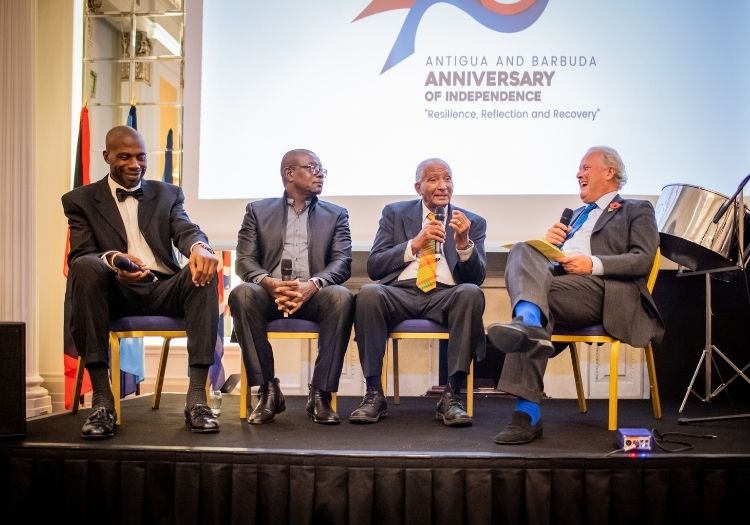 A trio of West Indian cricket legends spent a week in London celebrating 40 years of Antigua's independence from the UK, and they took the chance to whet their appetites for next spring's long-awaited Test series with England.
Curtly Ambrose, Andy Roberts and Richie Richardson – gentlemen all – wore black ties to talk about their famous careers in a Q&A with Lord Marland, President of the Commonwealth Business Council and co-owner of The cricketer magazine, at the RAF Club in Piccadilly.
Earlier in the day, the trio helped the island's tourism professionals explain how the island had fared effectively with Covid, during a presentation at the Royal Over-Seas League, behind the Ritz and next to Green Park.
England play five T20 internationals in Barbados on January 22, 23, 26, 29 and 30. The Test squad then travels to Antigua for a four-day warm-up match (Coolidge Cricket Ground, March 1-4) and the first Test (Sir Vivian Richards Cricket Ground, March 8-12). The second test is at Barbados' Kensington Oval (March 16-20) and the third is at Grenada's National Cricket Stadium (March 24-28).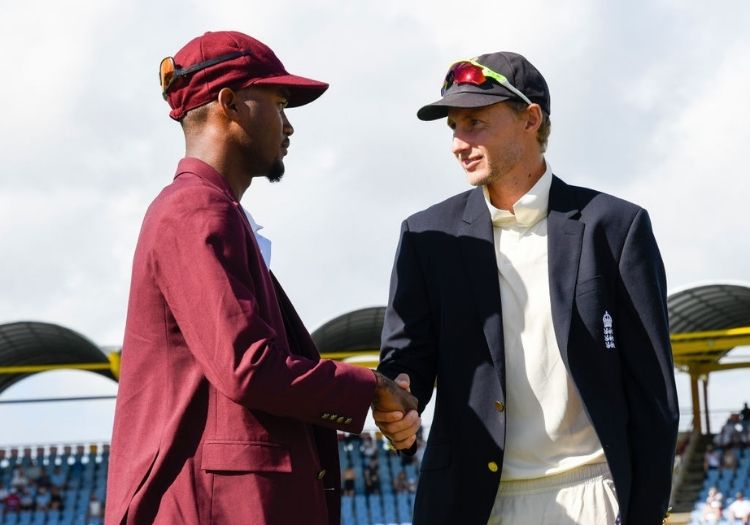 Kraigg Brathwaite's side welcomes Joe Root's team to three tests in March, which follow February's five T20s
Roberts, 70, took an astonishing 202 wickets in just 47 Tests. "If you put fear in a batsman, you have sacrificed him," he told the distinguished audience, including Mr Chet Greene, Minister of Foreign Affairs, International Trade and Immigration.
In a confession that clearly hurt him, he admitted: "For the first time ever I say I think England have a chance to win the Test series because of the standard of our cricket, but I would love, that you come and see the landscape on our island. The beaches around the country, the different coves … and then go over to Barbuda, which is even more beautiful. It has the best beaches anywhere in the Caribbean… the sand is pink! "
Roberts said he had developed his physique for fast bowling from his early life on the island. "I enjoyed running right from my early years. I spent most of the time running in the hills, in the water, which helped me develop strong legs. You need that for fast bowling or strong shoulders that Curtly has. "
When asked who the best dough he bowled for was, he joked, "Are there any Yorkshire men here? Because I have sad news, it's not Geoff Boycott! It was Sunil Gavaskar. Depending on the surface you play. on … if the ball bounced, Sunil surrendered early.If the ball bounced below or at knee height, the famous cover drive would come out where he went down on his right knee and we knew we were in trouble.He was the batsman I would most like to dismiss early. "
Testwickets: 405
Average: 20.99
Economy: 2.30
BBI: 8-45
BBM: 11-84
Femer-fors: 22
10-store: 3

Happy birthday, Sir Curtly Ambrose! pic.twitter.com/4CRcooQcK8

– The Cricketer (@TheCricketerMag) September 21, 2021
He chose his best incantation as his 3 for 41 in the second round of the West Indies' 55-race victory over England at Headingley in 1976. "I took three wickets in the first three overs, which put England back. I should have had a fourth, but Peter Willey was not given out by David Constant. If he had given him out, the match would have ended that night. I did not get another wicket. But that spell of 3 for saliva was the best I had because of the context of the game. . "
Richardson, 59, 16 test centuries, nominated his toughest opponent as Pakistan's Wasim Akram. "He did not just have pace … he was a great artist," he told the guests. "It was a short run, but he was able to swing it both ways, sew it … and magically turn it around. I do not know how he did it … there were controversies … but he "was master of it. He was a cunning bowler. He had a great combination with Waqar Younis, who was also fast, but he had a low lane, with late-swinging yorkers: very difficult to play."
Ambrose, 58, reminded the audience that they had his mother, Hillie, to thank for his 405 wickets in 98 tests. "I was influenced by the NBA when I was growing up in Antigua," he said. "The match looked exciting. I was a tall guy. I thought slam dunking was more exciting than playing cricket. But my mother was a cricket addict – always wanted her son to be a cricketer.
"She kept teasing me: 'Be a cricketer, be a cricketer!' I decided to try it for a club in 1984. I was quietly hoping it would not work, so she at least thought I had tried it.Unfortunately I was on the Antigua team in 1985, and in 1988 there was a few injuries and I was on the West Indies team.I went from not wanting to play cricket to being on the West Indies team within four years.The rest is history! My mother was a gem to force it!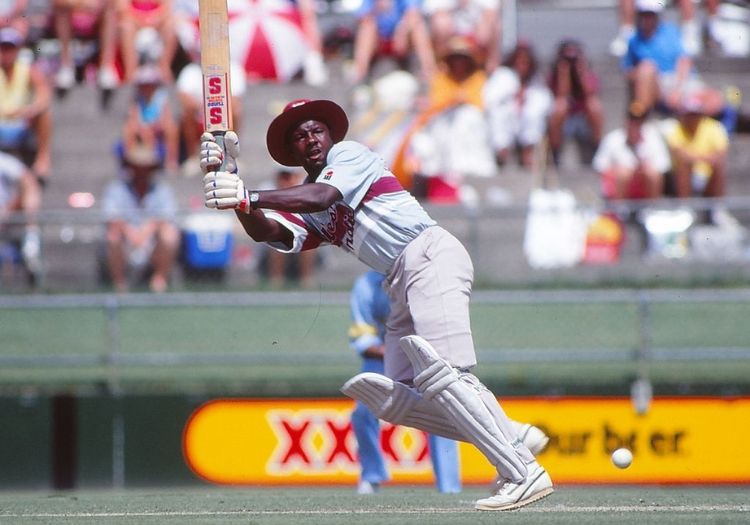 Four of Richardson's 16 Test centuries came against England
He says the best batsmen he bowled against were Sachin Tendulkar and Ricky Ponting. "Ponting would take you on … Tendulkar never showed any emotion. Some guys you can look them in the eye and know they are not comfortable … these guys were different."
While acknowledging that his enchantment of 7 for 1 against Australia in Perth in 1992/93 was hard to beat, he also chose his 8 for 45 against England at Barbados in 1989/90; and his 6 for 34 against South Africa at Barbados in the tourists' return to Test cricket in 1991/92.
He promises England fans a memorable time on his home island and says he will play his bass guitar with Richardson (guitar) in their Spirited Band music combination.
"There is no island in the Caribbean like Antigua," he says. "The music, the entertainment, the food and the drink … it's the place to be. It's the best place to watch cricket and cricket and relax from work and relax and enjoy the amazing cuisine. "
Main image lent by Beth Crockatt
Make sure all fields are filled out before submitting your comment!