Double pass to receive » J-Wire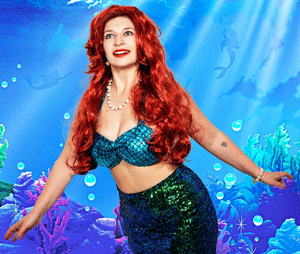 Read on for the article
Join British comedian Robyn Reynolds for her hilarious "fish out of water" solo show this week at Sydney's Factory Theatre.
Sydney Fringe Comedy Festival is back, reimagined Laugh Without Locking Festival.
This mistake, once mistaken for Ariel by a little boy, was soon discovered when Robyn turned to the side and revealed her unmistakable Jewish schnozz. Ariel Goldstein… is that you?
It's a comedy show that embodies the Jewish spirit of looking on the bright side, even when faced with chronic illness, abusive relationships, and an extremely frightening open mic comedy scene.
In a cute little mitzvah, Robyn donates $5 each ticket to charities that support people experiencing homelessness, including Homelessness Australia, Homelessness NSW, and Shelter NSW. To make comedy as accessible as possible, Robyn will be performing with an Auslan Interpreter on Friday night.
ROBYN REYNOLDS: THE MERMAID at The Factory Theatre, Marrickville
NOMINATED: Best Comedy at Sydney Fringe Festival (2019)
Enter promo code JWIRE for 25% discount
Robyn Reynolds: The Mermaid At The Factory Theatre on 18/19/20 November 20:15
Tickets: www.laughouttalockdown.com.au/event/robyn-reynolds
J-Wire has a double pass for show…. For a chance to win, choose your date and email address: mermaid@jwire.com.au