Erica addresses Tom's alleged victim, meets back at fans demanding their release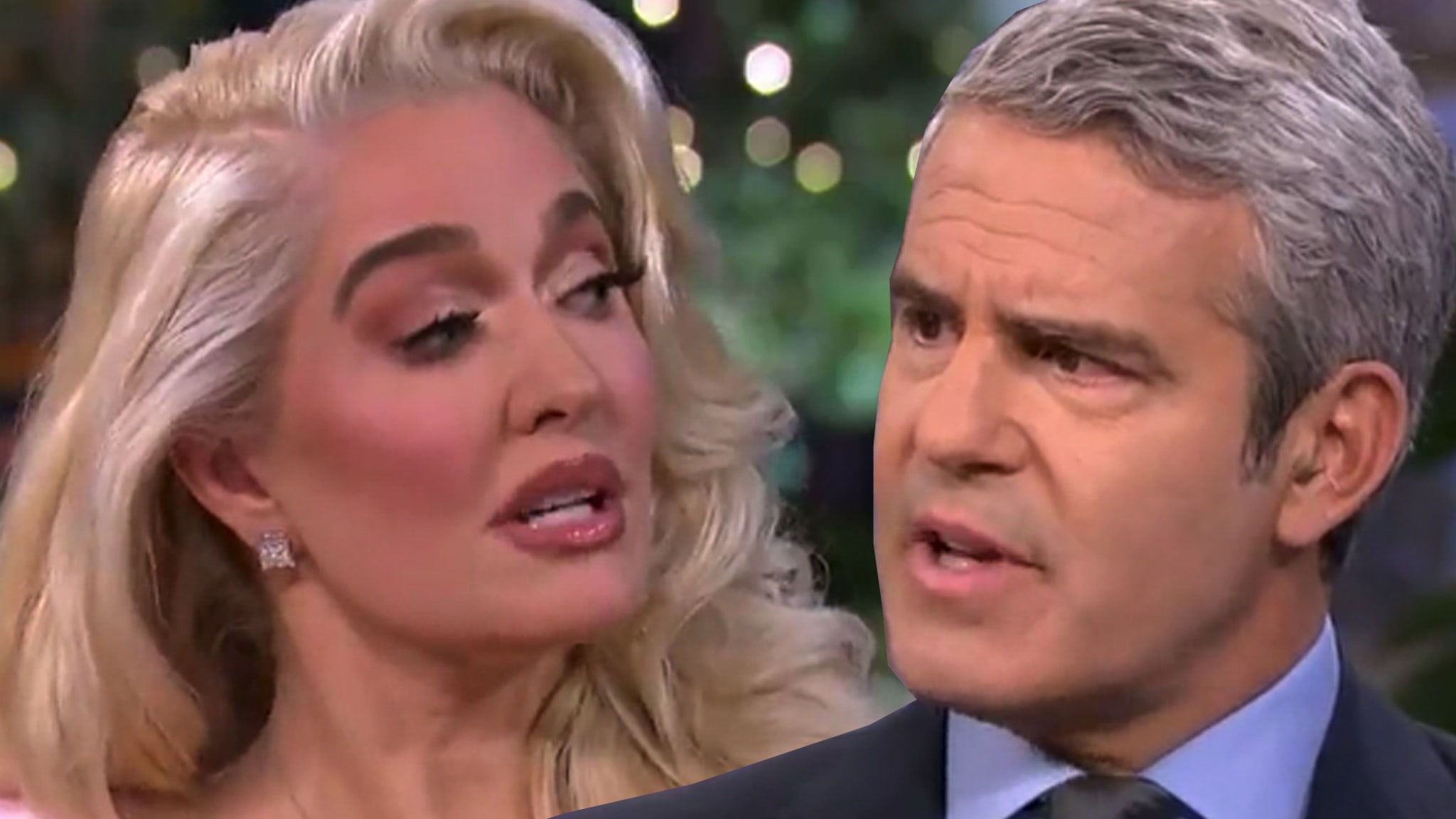 She also expresses disappointment at her costumes, admits that her lawyers wanted her to leave the show and says she is currently looking for a man with a "big penis".
"I'm looking forward to concluding this chapter and moving on," Erika said at the top of the hour, as Andy notes that her situation "continues as we speak." She reminded everyone that, due to ongoing legal proceedings, there were "some things" she could not talk about – but promised to "do my best to give every part of the story I can."
Throughout the season, Erica asked Costante how much she knew about Tom's allegedly sharp business practices. He is accused of stealing cancer patients, a burn victim and the families of plane crash victims. Also among the allegations: $ 25 million of the Tom Company went to EJ Global LLC, a company "set up for Jayne's performance career."
"This is the hardest part of my life. I ask for patience with the ladies. And got some, and some I did not," Erika said during the meeting. "I ask for an understanding that these things are complicated … and I do not have all the answers."
Cohen then asked Erica what she thought was the biggest misunderstanding about her after last season.
"There is a lot of talk about me being cold and not having empathy and sympathy. The truth is I am, but I am in an almost impossible situation. Anyone who has been wronged, I want them to be whole," she said. confirms that she's talking about "the alleged victims of Tom's alleged misconduct" when they are reprimanded by Andy.
"It's important that people hear that from me," she said, adding that she understood where the audience came from when they felt she had no sympathy for them. "But [viewers are] also look at it through their own eyes and they do not know what I know and they have not lived what I have lived. "
Noting that the season was "really, really hard" to look back on, she also shares how it felt to see how her hosts reacted to their situation on the show. "Disappointment, anger, sadness and then some hope and some love and some support," she said.
After Sutton Stracke, Crystal Kung Minkoff and Kyle Richards all agreed to talk to lawyers and lawyer friends about Erika's situation, Erika herself said that her own lawyers had advised her to join the show. break up.
"And then I said no because I have nothing to hide," she said. "They said, well you know this — can be turned on you. Everything can be analyzed, twisted, turned and, yes, possibly used against you. Whether it is true or not, it almost does not matter at this point. "
She added that she had considered leaving RHOBH – "but I'm not a jerk," she said, "and I wanted to respect my commitment. I did not want to run away from what was coming to me."
When Andy asked if Tom's loss of income due to the divorce was a big factor in her return, she admitted that, yes, "unfortunately it is." She added, "That's more elo of a consideration. Back then, when we were filming the show, I was literally trying to survive. So now that we're here, yes, that's more of a consideration. "
Noting that Erika had not been blamed yet, Andy then wondered how she felt about the spectators who were already demanding that they be fired.
"Why should I be fired? Why are you supposed to have done something? Why not let us play the legal process?" she replied. "You heard a page and a lot of bulls — on that page. Give me a chance to defend myself. Look at me. I'm ready for the challenge, see how I do it."
Later in the hour, Erika was asked about her dating life – exclaiming that she was "trying" to put herself out there. When Andy wanted to know what she was looking for, she said, "Something with a big penis. I would like hot sex." Gentlemen, their DMs are up!
The hour ended with a few more questions about Tom, with Andy bringing up how defensive Erika got at last season's reunion when he said it was "weird" her husband did not read his book or she was on Broadway seen in "Chicago."
"Kyle will defend Mauricio, [Kathy's] will defend Rick. This is what we as women do, "said Erika. I'm not giving him a passport ['Chicago'] because I know he was in DC and never bothered to come to New York City and I found out later.
Asked why she did not leave earlier when Tom actually cheated on her, as Erica claimed, she said the cheating was only "part of it." She added, "There's so much more there and I told Tom, 'If you'm in love with someone else, separate me and be with her.' 'She added that he said,' Nothing, zero 'in. Return.
The last question of the hour: "Are you faithful to him?"
But we did not get an answer there – so stay on page 2 next week. "RHOBH" will be broadcast on Bravo on Wednesday.