The development of agriculture is a need of the hour for each country's economic growth. When the concept of farming was invented, it was considered a remarkably novel idea that allowed humans to settle in a single location and set up future civilizations.
Humans' ability to engineer the environment to generate enough food supply to sustain massive population growth was the first profound change in the relationship between humans and the environment.
With time, conventional farming methods witnessed a wide range of technological integration, such as self-driving machinery, automation tools for crop monitoring, and more.
Technological advancements have completely transformed modern agriculture, from robotics and drones to computer vision software. With the world's ever-increasing population, farmers have access to tools that will help them meet their demands.
One such modern agriculture practice that allows farmers to apply chemicals and fertilizers, provide water, and sow seeds, easily is the variable rate technology (VRT).
This article will delve more into the definition of VRT and how it is helping transform modern farming practices.
Introduction to VRT and Its Role in Farm Automation
Farm automation is a technology that makes farms more efficient and automates the crop production cycle through smart farming technologies. Smart farming technology such as VRT made it possible to reach new horizons of agricultural practices with lesser manpower and cost-efficiency.
VRT can be considered a highly intelligent resource gatekeeper in human operations, which controls waste and conserves input inventory.
It eliminates the need to spray the entire field with insecticides or water for irrigation when only specific areas, even specific crop areas, need treatment. It provides a means to control the farm flow and application needs, including liquid, seed, anhydrous and granular fertilizer.
Currently, conventional farming methods have moved past the point of sustainability as the enormity of the growing population has caught up with the industry. The field gets what it needs with variable-rate technology, leading to healthier fields, stronger plants, and ultimately higher yields.
Drones, autonomous tractors, robotic harvesters, automatic watering, seeding robots, and more such innovations are in progress by a number of companies to make farming practices sustainable and efficient. Despite these technologies being fairly new, the agricultural industry has seen an increasing number of adaptations of farm automation into their processes.
The growth in the global variable rate technology market is expected to be driven by increasing demand for agricultural output and decreasing labor force in the agriculture industry with growing automation.
According to a report presented by BIS Research, the global variable rate technology market was valued at $2.02 billion in 2021, and it is expected to grow with a CAGR of 20.28% during the forecast period 2022-2027 to reach $6.09 billion by 2027.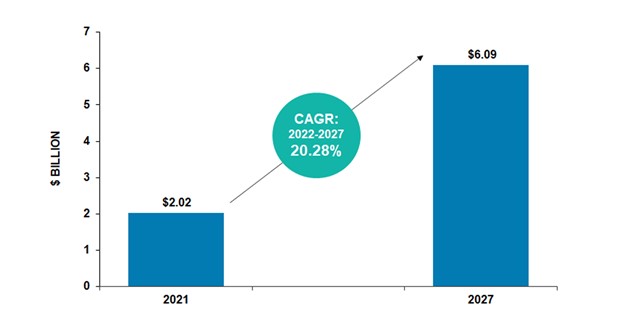 To get a free sample of this report, click here.
Advantages of VRT in Farming
The way the green revolution changed the nature of farming for the coming decades, the same can be expected from the smart revolution. The benefits of automating conventional farming processes are monumental. Some of these benefits are as follows:
• With the application of VRT, produce reaches consumers fast and fresh.
• VRT manages the task of fertilizing, planting, and watering, which increases the yield and rate of production.
• When the farming processes become easy, an increase in productivity is gained, which reduces the production costs for consumers.
• With variable rate technology, it is possible to maximize the potential of farmlands, minimize the stress on farmers, and heighten the efficiency of current processes.
• Routine tasks can be automated with the introduction of VRT in robotics technology, reducing labor costs and manpower needed amidst a labor shortage in the agriculture industry.
• VRT practices can make agriculture more profitable while also reducing the ecological footprint of farming at the same time.
Different Automation Practices Using Variable Rate Technology in Agriculture
The primary goal of farm automation technology is to manage mundane tasks to assist farmers with their activities. The following are the most noteworthy technologies related to agriculture automation that are dependent on VRT.
Harvest Automation: The harvesting season is often the most rigorous part of farming. To avoid bruising and damaging farm produce, harvest robots are being developed to aid in this crucial juncture. The use of VRT in bots has been known to make an enormous difference in execution since harvesting fruits and vegetables has always proven to be challenging to automate.
Drones: With imagery and infrared analysis to help farmers diagnose issues in advance, drones can quickly and cost-effectively identify problems to work upon them easily. VRT used in drones is capable of understanding and adapting to the various specifics of a farm, such as altitudes, types of plants being grown, and even the weather conditions.
Automated Tractors: Automated tractors are one of the most incredible inventions in agritech to help the farming industry. With variable rate technology, farmers certainly can utilize various ancillary technologies such as global positioning systems (GPS) and light detection sensors to carry out various functions of the farm without the supervision of the farmers. Alongside, farmers can remotely plan the routes of these vehicles and even gain real-time reports of their land as the tractor goes about its duties.
Seeding and Weeding Robotics: Weeding robotics are incredibly accurate in reducing pesticide usage by 90% with computer vision. With VRT sensor-based robotics developed for seeding and weeding, targeting specific crop areas becomes easy to precisely spray herbicides only where needed and with the exact amount needed. With autonomous machines specially developed for seeding, a more ecological and economical weeding of row crows, meadows, and intercropping cultures can be followed.
Analytical and Monitoring Tools: An enormous amount of time is spent monitoring and analyzing the condition of crops by farmers manually. Monitoring tools are programmed with variable rate technologies to seek and identify various specifics to help better inform damaged crops, weather conditions, pest attacks, etc. to the farmers.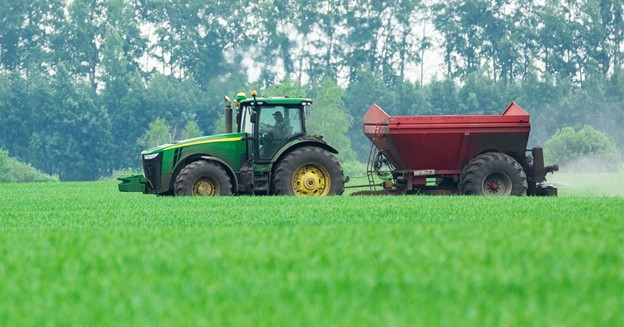 Major Challenge of VRT-Based Farm Automation
Though automation has a bright future in agriculture, it still needs to overcome existing challenges. As variable rate technology and robotics are intensively new inventions adopted by the agriculture industry, the current cost of acquiring these tools is likely to be high.
High costs to adopt these technologies bring a huge barrier for farmers to gain advantages, especially in developing countries. Therefore, it comes down to governments and corporations working together in order to make these technologies more affordable for farmers. The research and development that needs to go into the segment of farm automation are being highly observed, keeping the advances in focus. However, it can have profound implications on the future of the planet.
Conclusion
Farm automation is here to stay. Human assistance will always be a fundamental aspect of managing a farm, but autonomous vehicles and farm equipment are becoming a huge piece of precision in the farming industry.
Growing labor scarcity in the agriculture industry is one of the major drivers which is expected to accelerate the demand for variable rate technology in the forecast period.
With population estimates expected to hit the ten billion mark in the coming days, there is simply no alternative but to adopt new technologies to maximize farming production techniques and make way for fully autonomous agricultural production.
Interested to know more about the developing technologies in your industry vertical? Get the latest market studies and insights from BIS Research. Connect with us at hello@bisresearch.com to learn and understand more.