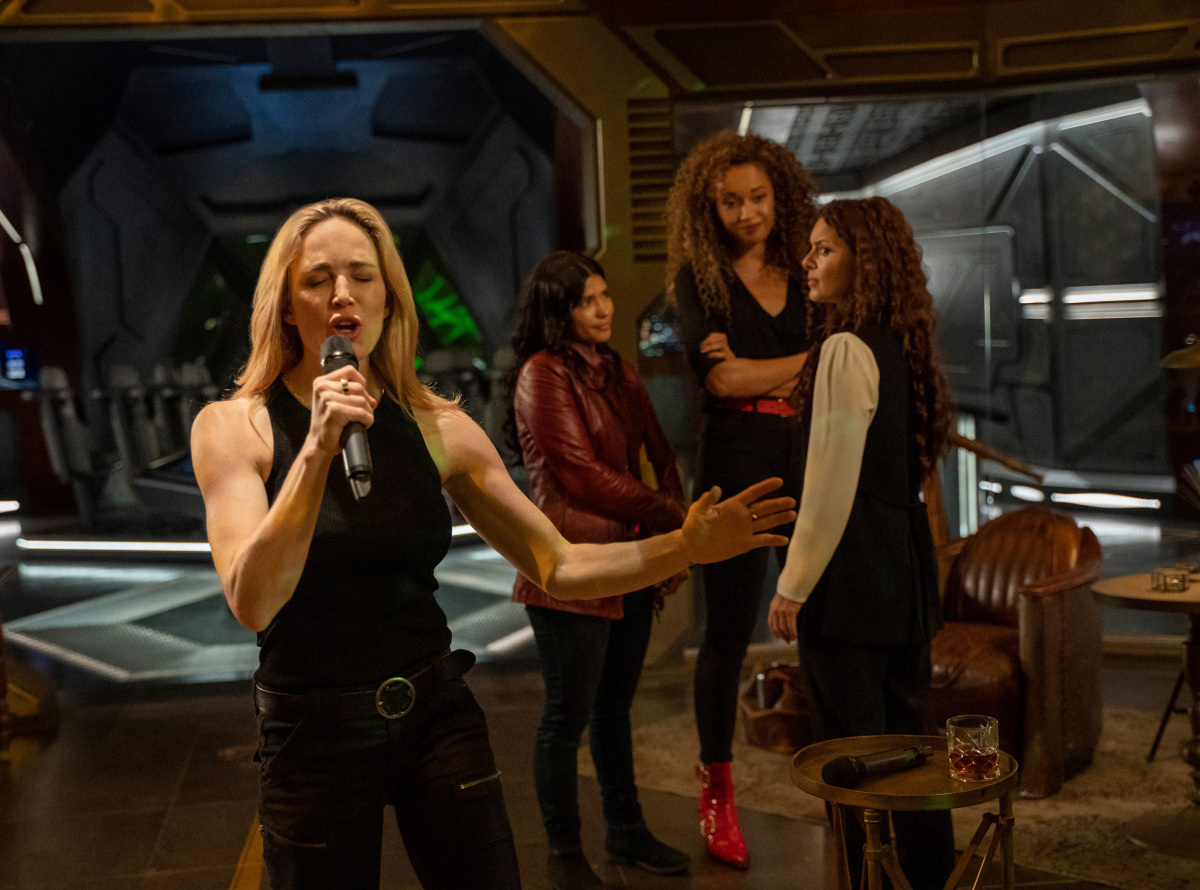 We go through all the relevant era of the team, with really glorious notes for so many returning characters. Brandon Routh is back as Ray Palmer, more friendly than ever. Victor Garber returns as Dr. Stein, sings show tunes – in the story because he just discovered he's a grandfather, even though it's a nice angle for him to leave the show on Broadway. Wentworth Miller is back as Captain Cold, consuming the scenery like he never left. Courtney Thorne and Arthur Darvill return as their best selves – Nora Darhk is happy to hang on to the team, Rip Hunter inspires Gideon instead of just hanging on to the team. And Falk Hentschel returns as Hawkman, only this time he is actually excited, and not just a growing wet blanket.
But the best surprise is Gideon himself. Pemberton has so much to do – she's learning a computer to express human emotions for the first time, and we can see them instead of just hearing them in the slight modifications of her voice. They are all so good. Every memory we go through is a piece of what took her from a computer program to a full person. Seeing these moments again was wonderful, but seeing them through Gideon's eyes was revealing. Then watching her fight to integrate the good and the bad was a highlight performance, one of the best this show has ever seen. Pemberton chose a hell of an episode to stop being a hidden gem and start a regular one.
For me, the best parts of the episode were the quieter ones, the scenes that were not related to a season or an evil or an event in Legends history. Gideon drinking in the book club, expressing Constantine to see Harry Potter in the cinemas was funny. Pemberton and Lotz were great in their sorta-karaoke duet.
And the show has been hard back in his Parks & Rec-but-superheroes, nice people are nice to each other vibe with April Fool's joke. As time travelers, they are usually never anywhere for vacations. Literally – they miss vacations because they do not visit these dates. So apparently they are all celebrating together on April Fool's Day. This is so good Legends of tomorrow Character in worldbuilding moment, along with a really wonderful time travel note that I do not think I have ever seen anywhere else.
That said, there will be a pretty big development tonight. The bishop is back. Somehow, the legends in the 100th episode of the show finally created a time paradox. Bishop Flash did not take, and not only did he remember helping the legends in 1925, but he also had a replacement copy of Gideon's hard drive. It is now an even money bet that he is behind the alternative waverider.