McDonald's McPlant Burger Splits Our Vegetable Taste Testers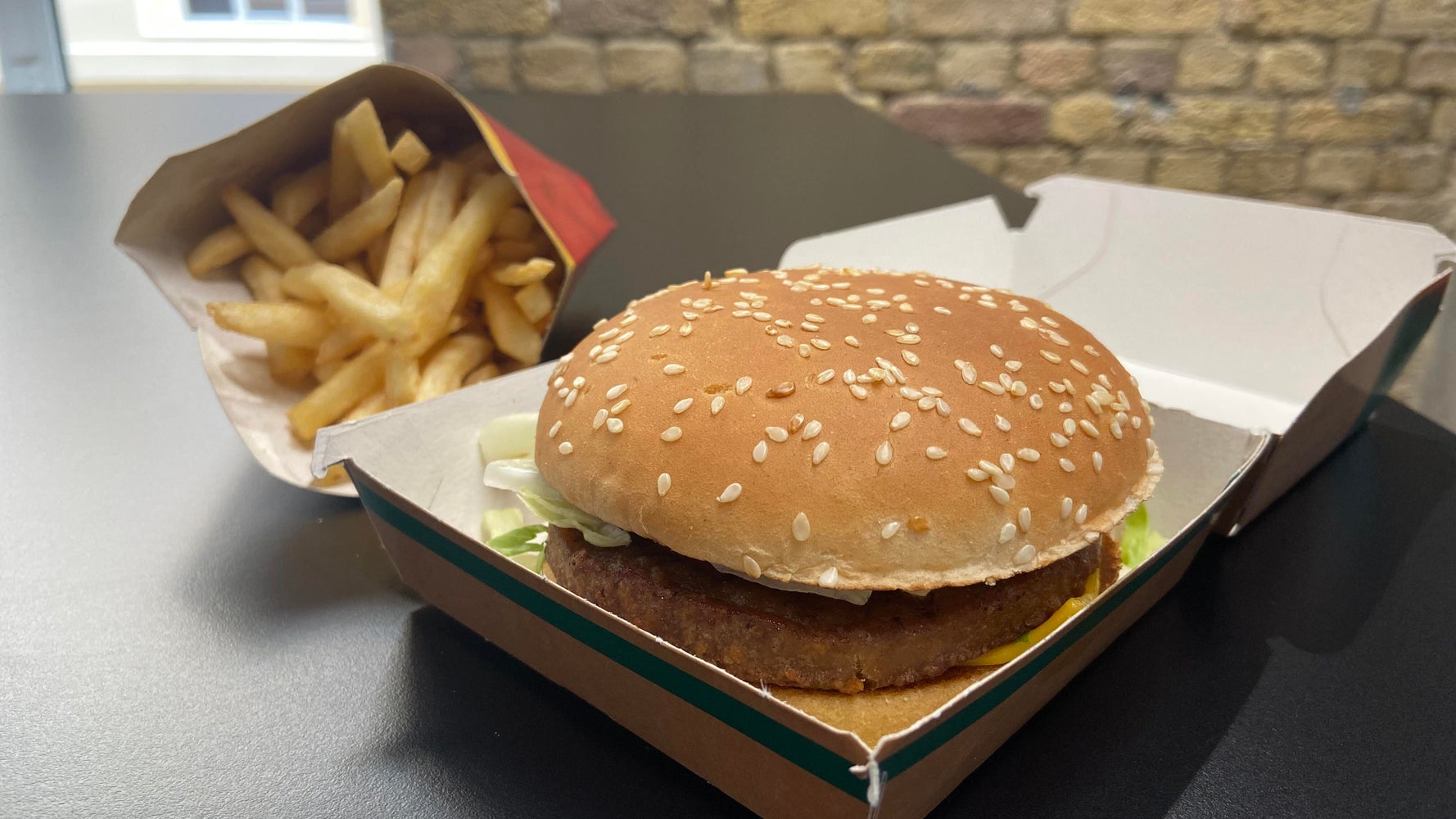 We finally have Adele's first new song in years. But that's not the only launch this week starving Twitter even more.
McDonald's new McPlant burger has reached 250 locations across the country after a test run in Canada and 13 restaurants in the UK in September.
The fast food outlet says it's McPlant's first plant-based burger, and at least in the UK and Ireland. vegan by the Vegetarian Society.
The impressive stack of burgers is built around a plant-based meatloaf from Beyond Meat, a slice of cheese made from pea protein, a new vegan sauce, and Maccies' mix of mustard, ketchup, onions, pickles, lettuce, and tomatoes.
Oh, and a vegan sesame bun.
The HuffPost team was clearly eager to taste-test this much-launched product. But before we checked – and McDonald's confirmed it – it's also prepared in a vegan-friendly way.
"The meat is cooked on a separate grill and used with separate tongs to prevent cross-contamination with meat and dairy products," a spokesperson said, adding that the potatoes supplied are vegan because they are not made from just potatoes. obvs!" – but only because they are cooked with sunflower and rapeseed oil in special containers, separately from any animal products.
McDonald's said it plans to make the McPlant available nationwide by January. Meanwhile, four (mostly) vegetables from the newsroom stuck with us downstairs to make up their minds.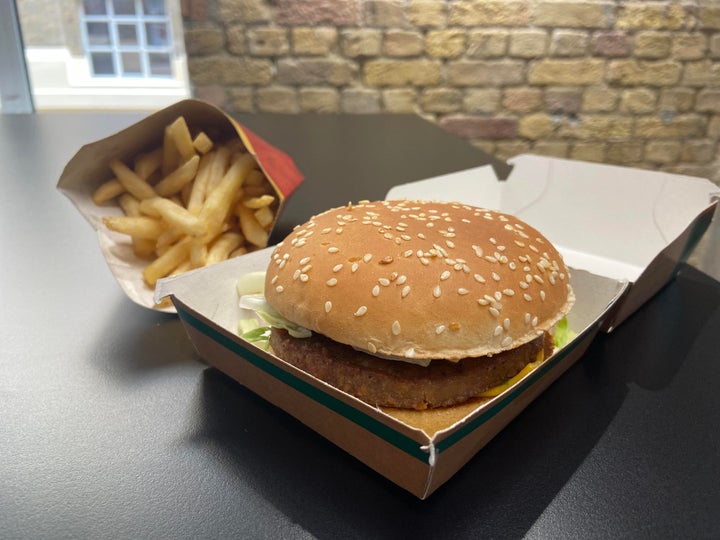 'McPlant really delivers'
"I've been a vegetarian for about 18 months and the only thing that really bugs my eyes when it comes to meat is the thought of biting into a quarter-pound of cheese. So when McDonald's announced its McPlant burger, I had high hopes—and I'm relieved to say they've met.
"McPlant is not something I would recommend to anyone who's after a gourmet burger experience. It's a McDonald's burger, as always, that's plant-based only, but if that's what you're after, then McPlant really delivers. A mix of toppings and slightly questionable lettuce-gherkin combination offers the full Maccies experience and can be enhanced by seasoning like a quarter-pound, while the meatloaf is a Beyond Meat burger, so it's actually a little fancier than the standard McDonald's single.
"If you're after something quick, easy, and vegan, this is definitely enough. Next, nuggets and milkshakes, please!" – Daniel Welsh, entertainment editor
'A pleasant surprise for a plant-based meatloaf'
"As I went into this taste test with low expectations, the McPlant burger really surprised me. The juiciness and juiciness of the burger are particularly impressive – a disappointing factor sometimes with fast food. Vegan cheese is also nicer than expected, the flavor is not strong or overpowering. And while the gherkin splits ideas, for me they were the cherry on top of the (burger).
"I follow a halal diet, so I usually eat plant-based. As a meat-free option, I'd be happy to go to McDonald's again for one of these, but it's lower in my rankings than some of the more gourmet vegan options on the market. When it comes to fast food vegan burgers, I'm sorry to say, Maccies, but KFC takes my number one spot." — Nabihah Parkar, audience engagement reporter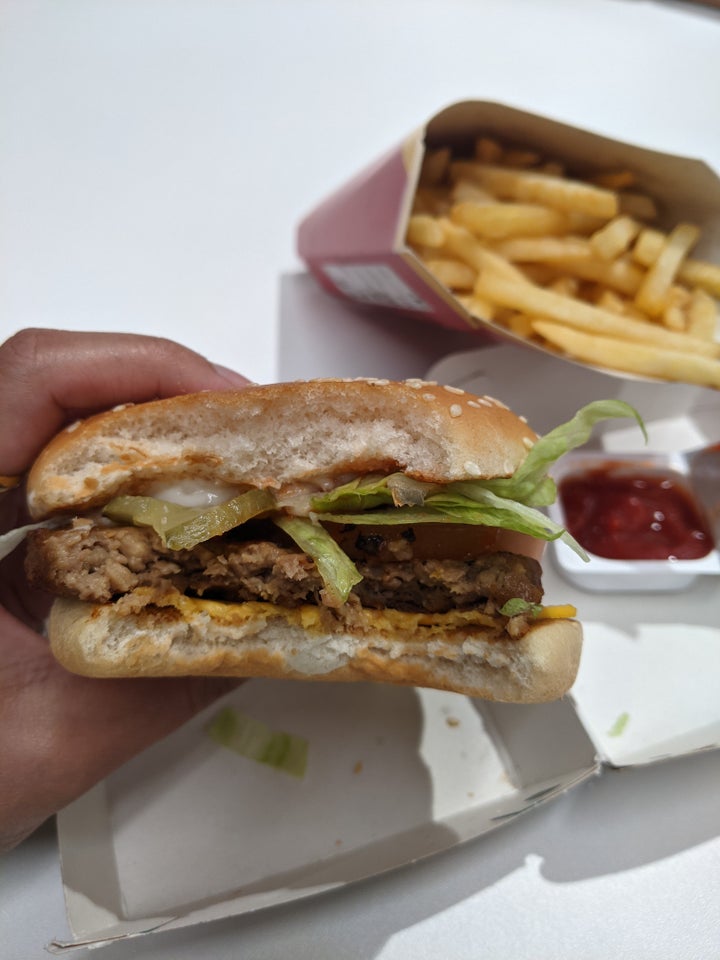 'A good option if not a game changer'
"This burger may be vegan, but it's still designed to be eaten after a night out. While it's not the most jaw-dropping thing on the market, it's probably the best herbivore option you'll find after 3am, that smells delicious and looks pretty appealing.
"As I start walking in, I find that the actual 'burger' portion is not dry at all as some veggie items might be, but is delicious with a light meaty texture. The cheese is also vegan so it certainly doesn't melt, but it brings the whole burger together. Mayonnaise, fresh lettuce, This burger with tomatoes and some gherkins is the kind of food McDonald's is famous for: delicious and fast.
"I am a vegetarian but probably (accidentally) vegan three days a week. This is a great option if you want to pamper yourself while all your carnivorous friends go out to dinner – but if you're trying to persuade someone to become a long-term vegan or vegetarian, it's probably not a very good option. The game changer you've been looking for." – Kate Nicholson, senior trend reporter
'Mcdonald's late for vegan game'
"I'm a vegetarian but I'm confused about this burger. It starts off well: it looks and smells like an authentic Maccies. The patty tasted pretty good, the lettuce was fresh, and had a surprisingly good amount of sauce. My problem is that McDonalds is pretty late to the vegan game here, so this "So I expected this to be brighter than the others I've tried. Is it a good try? Sure. But would I hurry back? Only if they bring out vegan McNuggets." – Sarah Dear, international audience analyst
.