NSW records 1,007 new COVID-19 cases, 11 new deaths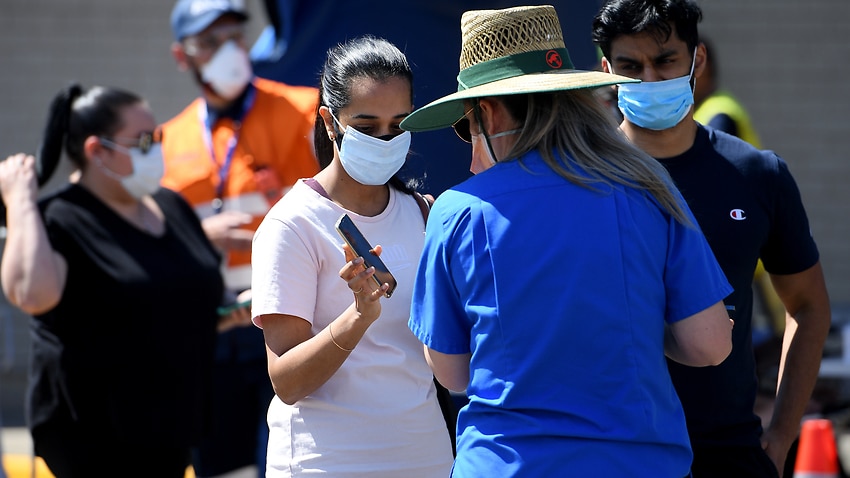 The virus continues to spread in NSW regions.
The Illawarra Shoalhaven area has registered 70 new cases, with 20 new cases found in western NSW and six new cases in Broken Hill.
The majority of those who died – nine – were unvaccinated, while two received a dose. Eight had underlying medical conditions.
One of the deceased was in his 40s, the other in his 50s, two people in their 60s, three in their 70s, three in their 80s and one in their 90s.
Sewage detection detected fragments of the virus in Tamworth, Dareton and Balranald, Oberon, Dungog and Eden.
Fixed hospital and intensive care numbers
Dr Jeremy McAnulty of NSW Health said he was proud of the NSW residents who came to get vaccinated.
"The more people we can get vaccinated, the sooner we will reach these 70 and 80 percent targets," he said in a video message on Saturday.
Hospital and intensive care unit numbers remain steady as the state approaches October, when hospitalizations are expected to peak.
In NSW, the hospital has 1187 COVID-19 patients, with 229 in intensive care and 118 on ventilators.
The state is only a few weeks away from fully vaccinating 70 percent of its eligible population, and this is triggering the return of some freedoms for those vaccinated.
Currently, 84 percent of NSW residents have at least one dose of vaccine and more than 57 percent are fully vaccinated.
But the government has yet to explain what residents can expect when NSW reaches its next 80 percent target.
Prime Minister Gladys Berejiklian called it a "tough question" on Friday, while the issue of when unvaccinated people would be allowed to attend restaurants, bars and shops remained undecided.
'Two-tier society'
His treasurer, Dominic Perrottet, says he doesn't want a "two-tier society".
"When every single person in this state has the opportunity to get two doses of the vaccine, then we have to open it up to everyone," Perrottet told Sydney radio station 2GB on Friday afternoon.
Opposition Leader Chris Minns suggested that the count's comments could undermine public health messages.
"It's really important that the NSW government sings from the same lyric and continues to encourage people to get vaccinated," Minns said.
Meanwhile, alcohol is now temporarily allowed in some Sydney public parks to "reward and thank" vaccinated picnickers.
Rob Stokes, Minister for Planning and Public Spaces, said rules restricting alcohol on sites managed by Placemaking NSW will be suspended until 31 October.
"After an incredibly harsh winter, people who follow COVID guidelines and receive both vaccines deserve to enjoy beer or wine responsibly," Mr Stokes said on Friday afternoon. Said.
Additional reporting: AAP