Colombo: Sri Lanka is preparing for the possibility of an oil spill after a cargo ship loaded with chemicals sank off the west coast.
The Singapore-registered MV X-Press Pearl, carrying 1486 containers including 25 tonnes of nitric acid along with other chemicals and cosmetics, was anchored off the port city of Negombo when the ship caught fire after an explosion on 20 May.
Flammable containers filled with chemicals fell from the deck of the ship into the sea as emergency workers sought to put the fire under control over the next two weeks.
The ship began to sink early Wednesday, and rescuers tried to move the ship into deeper waters off the coast, but the attempt was abandoned after the ship's rear touched the bottom of the sea.
The ship's operators, X-Press Feeders, said in a statement on Thursday that there were still no signs of a fuel oil leak from the ship, and that a lot of toxic cargo had been burned in the fire.
"Salvers are on the spot to deal with any potential wreck, supported by the Sri Lankan Navy and the Indian Coast Guard, which have oil spill response capability on standby," the statement said.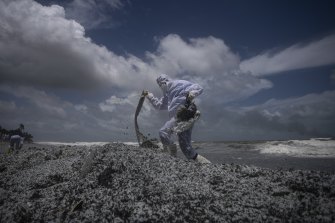 But photos from the country's coast guards show a layer of green film covering the sea around the ship, and millions of plastic pellets have already scoured beaches and fishing grounds, prompting the government to send 80 Fishing was forced to ban along the coast of Kilometers.
The government has said that it will seek redressal of the incident.
Disclaimer: The opinions expressed within this article are the personal opinions of the author. The facts and opinions appearing in the article do not reflect the views of knews.uk and knews.uk does not assume any responsibility or liability for the same.
For latest entertainment news| health news| political news| sports news| travel news| Covid-19 news| Tech news| Digital Marketing| Lyrics