Recipe: Lamb Sausage and Tomatoes with Sumac Sauce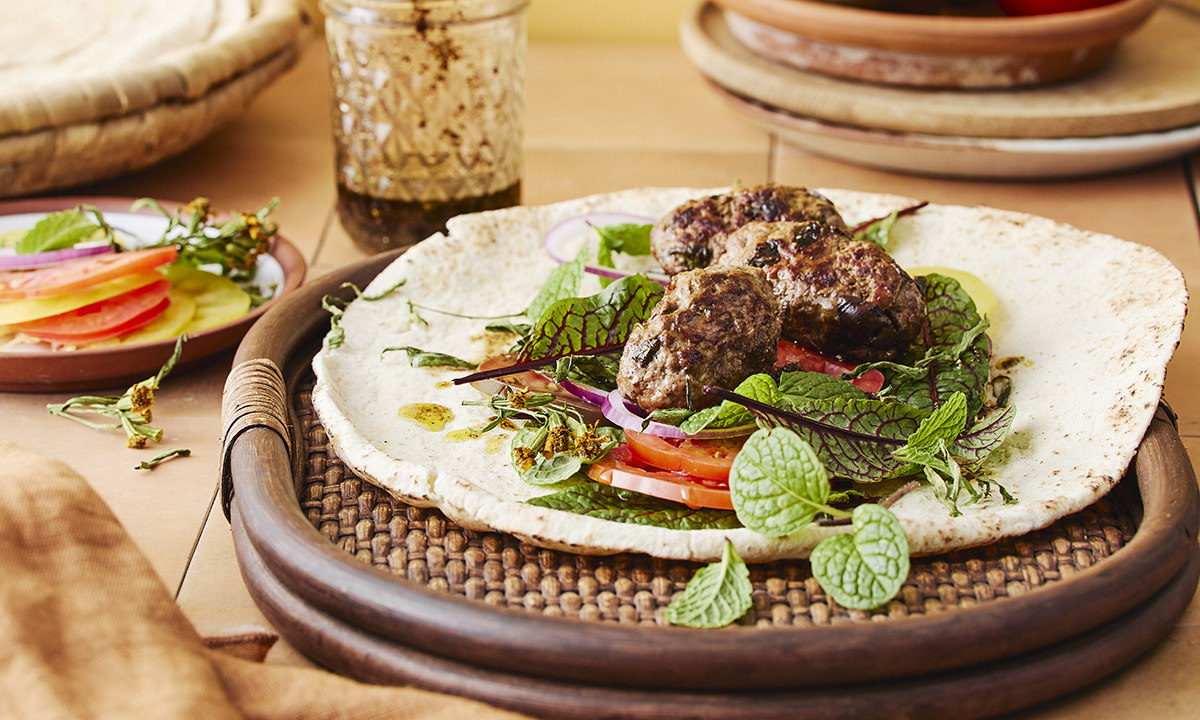 Fill your kitchen with the scent of spices as you whip up these healthy homemade hot dogs for the perfect weekend lunch or family dinner.
Lamb sausage with sumac sauce and tomatoes
makes about 24 small sausages
It's best to ask your butcher to ground a lamb shoulder for you because you want some fat but not as much as pre-ground lamb. If possible, make the mixture the day before so that the flavors are more mellow.
1 teaspoon cinnamon
1 teaspoon ginger
1 teaspoon sweet paprika
1 teaspoon nutmeg
1 teaspoon of black pepper
1 teaspoon of salt
½ teaspoon of sumac
½ teaspoon of cloves
600 g minced lamb shoulder
¼ cup lemon juice
12 black olives, pitted and chopped (optional)
2 tablespoons fresh mint, chopped
olive oil for frying
lemon juice, extra
to serve
pitas, mixed herb leaves, lemon slices
Mix all the spices together. Add to minced lamb with lemon juice. Mix it very well. Add the black olives and mint and mix again. Fry in small quantities, taste and adjust to your liking. Cover and refrigerate overnight if possible.
Wet your hands with water and form small glove boxes. Heat the oil and cook the sausages until golden. Spritz with extra lemon juice.
Serve with extra mint, pita bread, lemon slices, yoghurt and tomato salad if you wish.

tomato salad with sumac dressing
do the dressing first
1 teaspoon of sumac powder
30 ml of hot water
200ml solid olive oil
juice of ½ lemon
1 teaspoon of sugar
salt, white pepper
2 sprigs of tarragon, leaves only
1 clove of garlic is crushed to make a paste
Combine all ingredients in a jar with a tight-fitting lid. Shake vigorously and let it steep for at least an hour. Strain into a clean jar. The dressing will continue for a week.

tomato salad
1 small red onion, sliced ​​paper-thin
500 g assorted tomatoes, sliced
salt flakes and ground white pepper
Soak the onion slices in slightly salted water for 20 minutes. Squeeze excess juice and mix with tomatoes. Pour in a tablespoon or two of sauce and season with salt and pepper to taste.
This recipe was originally published in the August 2021 issue of SALIFE magazine.

Subscribe now
Subscribe Today!
Subscribe to South Australia's best selling magazine showcasing the best of Adelaide and South Australia.
Starting at just $9 per issue
including free delivery to your door.