Snout-attacking wild boar was killed after hunting – RT World News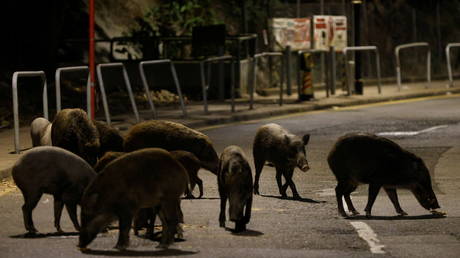 A herd of wild boar was collected and killed after one of the animals attacked a police officer on the streets of Hong Kong – the opening shot in a battle between the wild boar and the city's law enforcement authorities.
A group of veterinarians detained seven wild boars and killed the beasts after striking them with arrow weapons in an area near the city's financial center, according to a statement from Hong Kong's Ministry of Agriculture, Fisheries and Nature Conservation on Thursday.
The pigs were caught after attacking a police officer last week, an act that reflects the city's new policy against the animals: stop them before they attack again.
The aggressive boar beat down a policeman by biting his leg last week when the two met in a parking lot, where the pig only lost the battle after falling from the building to his death. The wild boar is apparently "accustomed"to walk back and forth along the roadway and beg for food from pedestrians and vehicles. Previously, the city had managed the population by capturing and calming the animals and then moving them to"remote areas"according to the department.
Hong Kong's CEO Carrie Lam promised to increase the penalties for the citizens who were found feeding the boars, who have reportedly been responsible for some 30 attacks in recent years. While residents are warned not to feed the boars so as not to encourage population growth or disease outbreaks, the animals are a favorite with some visitors. Still, Lam insisted "we can not just sit on our hands while things get worse. "
Animal rights groups have responded with a letter of protest against a euthanasia policy, pointing out that most visitors do not feed the boars and argue that resources should be directed at stopping human activity rather than blaming all boars. Allow the boars to be captured and killed "ignores their right to live and considers their existence in urban areas as a crime", it said in the letter.
Do you like this story? Share it with a friend!