Thousands protest against Sudan's power sharing agreement (RT VIDEO) – RT World News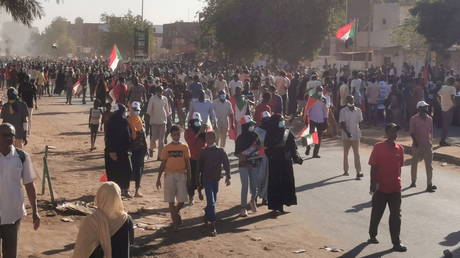 Security forces fired tear gas as thousands of protesters took to the streets of the Sudanese capital Khartoum on Thursday to reject a power-sharing agreement between the North African country's civilian prime minister and the military.
RT's Murad Gazdiev saw people in Khartoum block one of the city's key roads, set fire to decks and chant pro-democratic slogans.
Protesters were angry over Sunday's agreement between General Abdel Fattah al-Burhan and Prime Minister Abdalla Hamdok. It saw that the Prime Minister, who had been under house arrest since the military coup last month, was reinstated.
"We refuse this agreement … we want a complete civil society. We want a full civilian government, said one of the protesters, summing up the mood in the crowd.
READ MORE: Ten killed and dozens injured at anti-coup meetings in Sudan, says doctor (VIDEO)
While thousands took part in the rally, the turnout was much lower than the organizers had expected. According to Gazdiev, locals are beginning to lose faith in the promise of political reform and a fair general election, which was made after Sudan's longtime leader Omar al-Bashir was ousted in 2019.
Do you think your friends would be interested? Share this story!