'What did we do?' – Store owners frustrated by the crime wave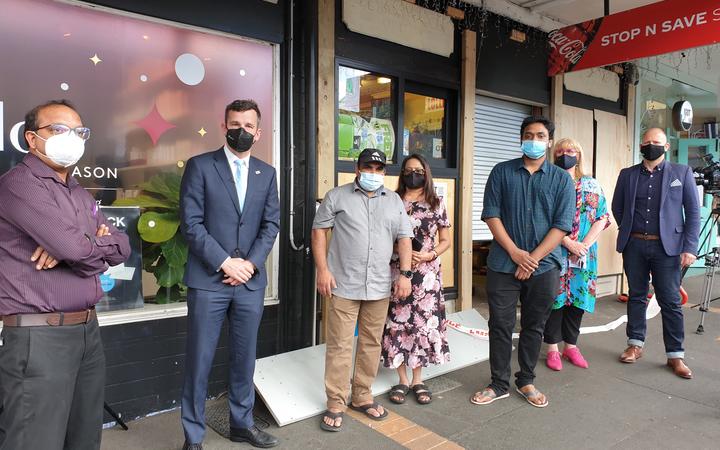 Auckland business owners are crying out for help, saying that inner-city crime is on the rise.
Movement party leader David Seymour said this was partly due to the assignment of officers to the pandemic response, including 271 on border posts in the region.
Sumi runs Stop-N-Save Superette with her husband in the middle suburb of Mount Eden.
Earlier this morning, his store, along with the liquor store next door, was robbed for the fourth time since Delta's quarantine.
Sumi said that a clerk came later and asked a staff member to accompany them to inspect the store.
We really want our community and local deputies to support us to bring this issue to the Parliament, and we want them to be caught," he said.
Sumi said it's a safe neighborhood, but the recent crime boom is laughable. He said they need to upgrade their security systems and the cost is not just financial.
"We continue to bear these costs and then they come and break… I know insurance covers some of these, but it's just like all our time, all our effort and well-being."
Kalpesh Patel, owner of Hilltop Superette in Parnell, said his store was raided a month ago. He said the police couldn't come at night and only came to visit the next morning.
"Same disappointment with them… the police didn't show up that same night, so me and my wife stood there until the emergency windows came and they closed the shop."
Patel also said that thefts happen every day and they don't feel safe in the store. He said that he would not leave his wife alone in the shop.
"I haven't been out for a walk since the door. I used to go every day, but these days… I don't."
Another woman, who did not want to be named, said the family's Mount Eden dairy was robbed this week when a group of teenagers broke in and attacked her uncle, taking cigarettes and cash before leaving.
"What are we doing to start getting some support, gain some awareness and start change? It's really sad, what's going on in our society and things are getting worse and we can't stay blind to this forever?"
Newmarket Business Association CEO Mark Knoff-Thomas said more than a year ago he voiced his concerns about the post-Covid crime waves, and that things are getting worse.
He said business owners needed urgent help from the government.
"We see tattoos. We see robberies, we see robberies, endless robberies and the police, our local police are great. They do a great job, but they're so nervous that they're being chased." city.
"I think the thing that bothers me the most, and for our business owners, is that the minister seems to be asleep at the wheel."
Seymour said it's both a problem of police numbers and deployment.
"This is not our criticism of New Zealand police. We love our local police. There are not enough police and they are distracted by Covid, which puts a lot of people at risk," he said.
"We're not saying we don't need the police in Covid. Of course there is, but we also need to point out that Covid is a problem… This is not the only problem.
Inspector Grant Tetzlaff, commander of the Auckland City western district police district, said policing during an outbreak was "extremely demanding" and they had to relocate personnel to assist checkpoints and Managed Isolation and Quarantine facilities.
"But during this time, our public safety teams have been at full capacity."
"Police await a gradual return of personnel to police districts currently reassigned to support police response to Covid throughout December."
.