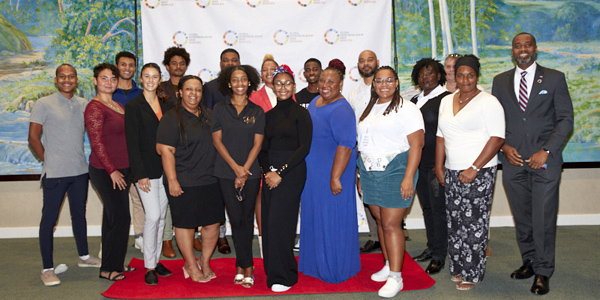 2021 Global Entrepreneurship Week [GEW] got started with a number of local entrepreneurs who pitched their ideas in the Rocket Pitch Competition.
A spokesman said, "The Bermuda Economic Development Corporation [BEDC] ready for an eventful 2021 Global Entrepreneurship Week [GEW], which begins with the Rocket Pitch Competition.
The finalists of the 14th annual Rocket Pitch competition will present their companies to the judging panel on Tuesday, November 9 for a chance to win a share of $ 42k in cash and services. Communications, the Economic Development Department, Arch Capital Group and Bacardi Limited, have helped launch or expand over 40 companies.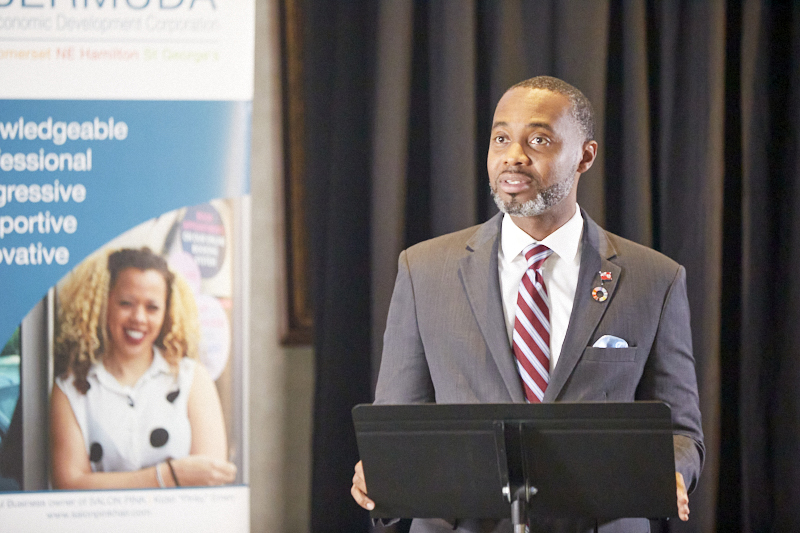 "Sutton budding entrepreneurs presented their ideas under the stars of Bacardi Ltd. Participants and judges received business ideas, ranging from a babysitting app to jewelry with lionfish fins. companies with the local community in mind, Pitch Green – an environmentally friendly solution, Youth Pitch – for students under 18 and Pitch Food & Bev – the Bacardi-sponsored category that focused on business ideas that contribute to the food and beverage industry.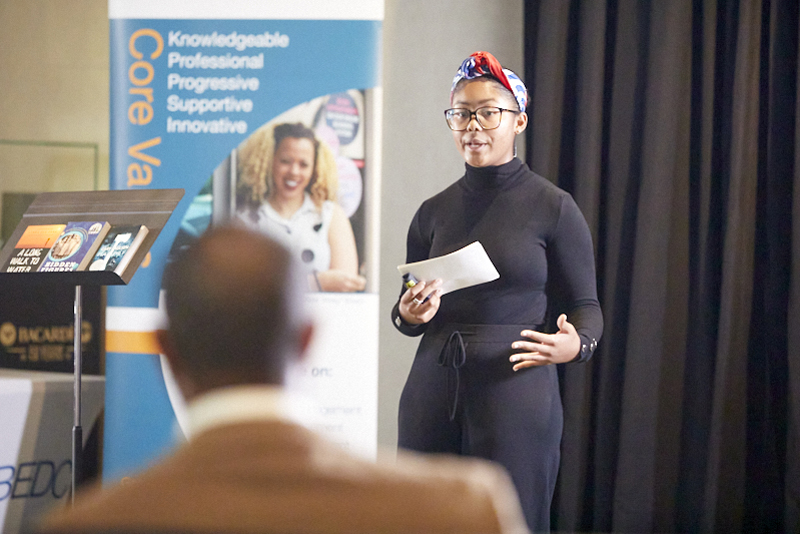 "First place and second place winners were selected for each category and each finalist left with a cash prize – 1st place: $ 5,000 & 2nd place $ 2,000 – and a startup service package, sponsored by local companies.
"This year's service package included: Business Coaching by Transform Bermuda, marketing consulting from Inspired Bermuda, financial books and consulting services by Fusion 4 Business and access to a variety of membership levels from LeadxDesign's digital suite.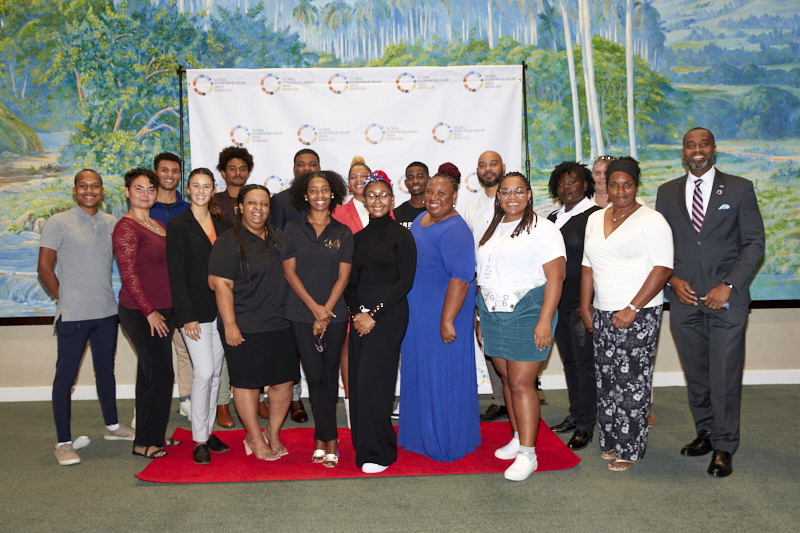 The winners of the 2021 Rocket Pitch by category included:
Youth Pitch: Sponsored by Horizon Communications
1st place winner: BookSpace – a company focused on a well-thought-out selection of exciting educational books designed for all ages to constantly learn and grow by Marli Spriggs
Second place winner: Pressure 'til We Perish – a clothing and lifestyle brand based on the values ​​of self-determination and self-drive by Vincent Darrell
Pitch Tech: Sponsored by the Department of Economic Development
1st place winner: Playdate – an app that lets parents find the perfect babysitter for their child by Quinn Outerbridge
Second place winner: GPS Ltd. [General Project System] – an on-call platform for the domestic services market that allows individuals to sell their skills and services by Dallas Scott, Enrico Escolastica and DonIra Philip Rodriguez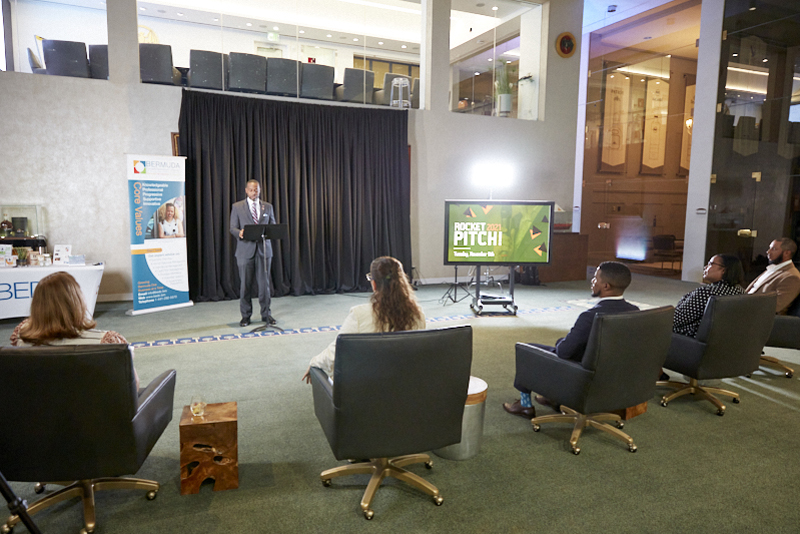 Pitch Pink: Sponsored by the Bermuda Tourism Authority
1st place winner: Rose of Sharon – a first-class wedding and event planning company by Claire-Anne Raynor
Second place winner: Pink Sands Sanctuary – a sea turtle rehabilitation center closer to the natural habit of the turtle by Cassandra Roberts
Pitch Green
1st place winner: Sew Brew – an environmentally friendly and sustainable ring company that uses lionfish fins by Abby Brewer
Second place winner: Bermuda Agricultural Group Heritage Collective [BAGH]: a collective that aims to serve the public through agricultural and horticultural education, recreation, conservation and research by Dr. Susann Smith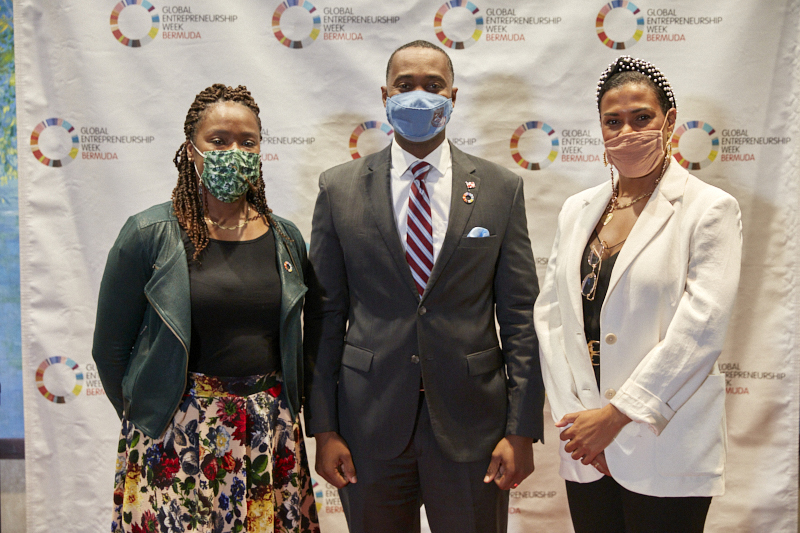 Pitch Town
1st place winner: Uplift – a one-stop-shop for premium CBD hemp products in Bermuda by Michel'le Cannonier and Kalyn Cannonier
Second place winner: GoodJob – a youth-focused labor training program, financial empowerment program and seamless payment processor by Gavin Smith, Aruna Dismont and Deidra-Lee Bean.
Pitch Food & Beverage: Sponsored by Bacardi Limited
First place winner: Gavin's Butter – a gourmet garlic butter with 17 different flavors by Gavin Carter
Second place winner: The Greenhouse Bermuda – is a wholesale company that provides Bermuda with delicious, organic food and drinks that are free of steroids, refined sugar, non-GMO and no artificial ingredients by Craig Smith
People's Choice Award: Sponsored by Hamilton Princess & Cosmic
"The People's Choice Award was chosen through a live poll where a total of 413 people voted, including those present and those who watched the livestream. This award was partly sponsored by Hamilton Princess and Cosmic, where the winner took home a champagne brunch for two at Crown & Anchor and a logo design and Gavin Carter from Gavin's Butter was the audience's favorite who received 29% of the vote and took home the coveted prize.
"There are several other exciting events planned for the rest of the week. The BEDC Business Awards will take place on Saturday 13 November starting at 6 pm; the Women Entrepreneurship Day brunch will take place on Sunday 14 November at 11:30 am in preparation for the The annual conference, which takes place on Friday, November 19, starting at 9 a.m. To round off the week, our partners in the Department of Economic Development will host TechAwards and Reverse Pitch. For more information on Global Entrepreneurship Week, visit www.gew.bm, email info@bedc.bm or call 292-5570. "
read more about